Argentine economy growth flat in second quarter; full year estimate revised down to 3.4%
Saturday, September 22nd 2012 - 02:28 UTC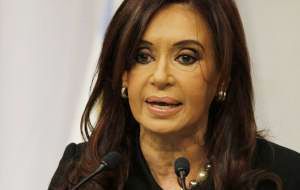 The Argentine economy remained flat in the second quarter of the year compared to the same time period of 2011, the poorest performance in three years, according to the national statistics office Indec.
GDP had grown 5.2% year on year between January and March of 2012 but the economy fell 0.8% in the second quarter when compared to the volume registered during the first quarter.
The Argentine government forecasts growth of 3.4% in 2012, down from 8.9% last year, according to the 2013 budget bill sent for discussion in Congress. However government officials expect an improvement later in the year, and industry production has showed signs of coming off lows earlier in 2012.
Investment sank in the second quarter, with spending on durable goods for production plunging 26.5% year-on-year and investment in imported durable goods sinking 41.8%.
President Cristina Fernandez has imposed import restrictions and capital and currency controls since winning re-election last October, hurting business and consumer confidence and reducing purchases abroad. The purpose of the government is to stop the outflow of dollars and retain them to cancel debt and finance imports.
Private consumption was up 4.2% in the second quarter after rising 7% year-on-year in the first quarter.
The government revised its overall GDP data for the first-quarter growth down to 0.6% compared with the fourth quarter of 2011. The economy grew 2.4% in the first six months of the year compared with the same period of 2011.
Argentina has been accused of exaggerating economic growth for political gain while grossly under-reporting inflation. The IMF demanded this week that Argentina improve its economic data by mid-December.
Argentina also reported on Friday a current account surplus of 1.71 billion dollars in the second quarter, 3% wider than a revised surplus of 1.66bn in the same period last year.
The current account is the broadest measure of a country's foreign transactions, encompassing trade, services and an array of financial flows, including interest payments.