Cristina Fernandez off to the UN General Assembly to claim Malvinas sovereignty
Saturday, September 22nd 2012 - 05:32 UTC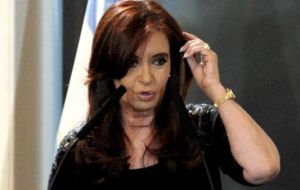 President Cristina Fernandez leaves this weekend for New York to attend the UN General Assembly where two of the main issues of the Argentine agenda will be the Malvinas Islands claim and AMIA, the terrorist attack on an Argentine Jewish institution in which allegedly Iran could have been involved.
In the five days the president will be in the US, the schedule includes opening a forum of Argentine studies in Washington's Georgetown University and a conference at Harvard University one of the US most prestigious institutions.
President Cristina Fernandez also has scheduled meetings with US corporations including Exxon CEO Rex Tillerson precisely when Argentina's recently seized oil and gas company YPF is looking for foreign investments to help develop gas and oil shale deposits in Patagonia.
On Monday the president will be visiting a photo show dedicated to Evita Peron at the Argentine consulate in New York: "Evita: passion and action".
One of the Argentine president's great aspirations, a picture with US president Obama could be becoming on two occasions: on Tuesday during the traditional lunch hosted by the White House to all world leaders attending the UN annual assembly and a cocktail at the Waldorf Astoria hotel on Wednesday evening also invitation of the US leader. However Cristina Fernandez has yet to confirm attendance.
On Tuesday Cristina Fernandez will address the UN General Assembly (16.30, Argentine time) and one of the issues to be considered is the AMIA terrorist attack from 1994, still unsolved, and for which the Iranian Foreign minister has requested an unexpected meeting with his Argentine peer Hector Timerman while in New York.
Argentina accuses former Iranian officials of direct involvement in the attack against the Jewish institution in the heart of Buenos Aires and as in previous occasions Cristina Fernandez will formally request Teheran to collaborate with the judicial investigation.
However last year following on the Iranian initiative to hold bilateral talks, the Argentine delegates did not abandon the hall when the Iranian president addressed the assembly.
The other big issue is the Falklands/Malvinas claim and calling on the UK to resume talks, following on her aggressive campaign when last June she personally spoke at the Decolonisation Committee or C24 on the 30th anniversary of the invasion of the Islands by Argentine forces which led to a full fledged 74 day conflict with Britain that recovered the Falklands.
On Wednesday she flies to Washington for the opening of the Argentine Studies office at Georgetown University. Basically it will act as a forum for discussions and interactions between Argentine officials, politicians, business people, academics and their US peers.
Thursday is Boston, to give a conference at Harvard and from there the return flight to Argentina on Tango 01.