There will be a Grand Prix in Argentina "when I can deal with serious people"
Monday, September 24th 2012 - 06:33 UTC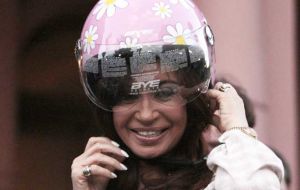 There will the Formula 1 Grand Prix in Argentina "when I can deal with serious people" said the industry's pope, Bernie Ecclestone following on Argentina's aspirations to be included in the competition's coming calendar.
The last time an F1 Grand Prix was disputed in Argentina was back in 1998 and in Buenos Aires. Since then the gap of any chance of return has only widened but last 14 March President Cristina Fernandez surprised everybody when she announced that the maximum racing event would return to Argentina in 2013 and for three seasons.
Last Friday the International Federation of the Automobile announced the pre-calendar for next year and there was no mention of Argentina which was originally programmed to take place in the streets of the Atlantic sea-resort, Mar del Plata. But in spite of the announcement representatives from the city's tourist board announced they were working hard to ensure "Formula 1 returns in 2014".
However in a Fox Sports interview, Ecclestone destroyed all hopes saying that "I can't see Argentina on the calendar" And what about 2014? "We will always be open to do something in Argentina, if we deal with serious people, we will be open. There will be a GP in Argentina when we deal with serious people", underlined the 81 year old British tycoon.
The very strong statements from Ecclestone have a direct target. Even when the Argentine president made the public announcement of negotiations related to the event, the deal was in the hands of the private company Time For Fun, which organizes big musical and leisure events.
However it must be said that Tourism minister Enrique Meyer was always to the point: "The State is a sponsor of the project; we do not have contact with Ecclestone".
The private company already had to face the situation and come up with some kind of reply last May when the first strong statements from Ecclestone.
"I haven't seen any contract. There is nothing signed to run in that country (Argentina). I have no idea", and ironically added "with whom do I have to talk over that contract?"
When he was informed of the presidential announcement in Casa Rosada he was straight to the point: "then tell her to ring me".
In Latinamerica the country with the greatest chances of being included in the F1 calendar is Mexico: "we are working with the organizers in Mexico" pointed out Ecclestone.
The tentative calendar with 20 events, released last week, included four "to confirm". They are Singapore, Korea, Germany and United States in the streets of New Jersey. But in spite of doubts there are no chances the GPs will be replaced by other countries, as was expected in Argentina.