Ambassador Argüello praises "best US/Argentina trade relationship in 200 years"
Tuesday, September 25th 2012 - 23:17 UTC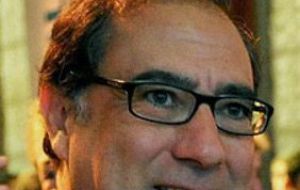 Argentine ambassador in the United States Jorge Argüello assured that Argentina and the US "are having the best trade relationship in almost 200 years of bilateral relations" and said that "they've never had a trade volume similar to the one reached this year, which left a 13 billion dollar surplus."
Speaking from New York, Argüello said that "a complex, intense relationship like the one we have with the US will always make some noise" although he clarified that "they are not caused by the relationship between Washington and Buenos Aires, but are a consequence of the current global situation, a result of the crisis of the developed world."
"After this crisis, which became more intense in 2008 and 2009, the entire global economic and trade system has been tense, since developed countries want to keep producing in order to maintain their employment levels, and the underdeveloped nations are at the same time trying to become producers in order to be less dependent," he explained.
The diplomat added that the tension affecting the world markets "is also related to our relationship with the United States, although they are being dealt with as they should in the World Trade Organization.
Argüello explained that ever since his arrival to the Argentine embassy in Washington DC last January, "he received specific instructions by President Cristina Fernández to improve the bilateral relations" with the US.
In related news the Argentine stats office Indec revealed that the country's trade surplus doubled in August and reached 1.628 billion dollars, after the seventh consecutive month of import controls.
Exports registered a 6% drop during the eighth month of the year against the same month in 2011, and totalled 7.952 billion dollars. Meanwhile, the imports fell 17% year-on-year, reaching 6.324 billion.
"The imports value was 17 percent lower than during the same month in 2011, and the drop was registered in all the sectors," the official index agency stated.
During the first eight months of the year, the Argentine trade surplus reached 10.031 billion dollars, 38% higher than the one registered during the same period in 2011.
President Cristina Fernandez administration policy of promoting exports and containing imports with different arguments has caused disputes with several trade partners including not only the US, but also the European Union, Japan, Mexico, Australia among others.