Chilean company and global leading lithium producer strengthens market position
Tuesday, September 25th 2012 - 14:22 UTC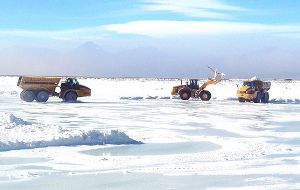 The world leading lithium producer SQM has won a tender to develop a lithium concession in Chile, which produces around 40% of the metal, used widely in hybrid vehicles and computer and smart-phone batteries, the Mining Ministry said on Monday.
Chile's SQM offered to pay around 40.6 million dollars for a 20-year concession. It beat out rivals Posco Consortium, made up of Posco Ltd, Mitsui & Co, Daewoo International Corp and miner Li Energy Spa, and Chilean miner NX UNO de Peine.
Development of lithium has been tempered by a constitutional ban on concessions in world number one copper producer Chile. Special contracts for lithium production, however, are legally permitted.
Demand for lithium batteries has risen in recent years because they are more efficient and help cut carbon emissions. The rising popularity of smart-phones, which need longer-running batteries, has also helped.
The concession could boost global lithium supply by around 15%, Deputy Mining Minister Pablo Wagner has said.
The chief operating officer of SQM, which also produces fertilizer and iodine, is the brother of Mining Minister Hernan de Solminihac. The Minister is not participating in the development of the lithium contracts to avoid a conflict of interest.
SQM held around 31% of the global lithium market share in 2011, according to the company. Some in Chile have decried the tender, accusing the government of surrendering a valuable resource to private hands.