Argentina calls on UK for talks on 'global issue' Malvinas and 'demilitarization' of South Atlantic
Wednesday, September 26th 2012 - 02:52 UTC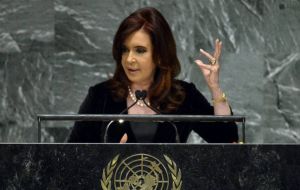 President Cristina Fernández once again claimed Argentina's sovereignty over the Falklands/Malvinas islands and urged the United Kingdom to accept talks and abide by the United Nations resolutions on the matter which has become a "global issue". The Argentine leader also asked for the demilitarization of the South Atlantic.
"We do not ask the UK to tell us we are right, we are asking them to sit down and comply with the United Nation's resolution over the Malvinas Islands sovereignty," the Head of State said as she addressed her counterparts during the United Nations General Assembly in New York.
"Next year will be 180 years since the UK illegally usurped our Malvinas Islands. We reiterate this is not a bilateral issue between the UK and us, this issue has become global" because that is the main reason for the successful de-colonization committee (C24) started in 1961.
"There have been many resolutions all asking the UK to sit down at the table and talk to Argentina, but they refuse; we are just asking compliance with UN resolution 2065 and the successive resolutions since then, and not only in the UN, but with OAS, Mercosur, Unasur, Group of Rio, etc."
Cristina Fernandez also criticized the double standard of the UN, since permanent members of the Security Council can decide not to comply with the resolutions, and "nothing happens". She also emphasized that the Malvinas question is "not a bilateral issue" but a "global issue" because "we should have moved into the XXI century with no colonial territories, which is also an issue of human rights".
Finally the Argentine president called for the demilitarization of the South Atlantic to ensure it is a zone of peace, dignity and sovereignty.
The UK has repeatedly refused to discuss the sovereignty of the Falkland Islands with Argentina because it says that the Islanders have a right to self determination and decide their own future: they are independently governed and should be responsible for their own future.
However the Argentine position refuses to recognize the Falkland Islands as a nation and will not enter discussions with its government or any trilateral talks. For Argentina the Islanders are British settlers and thus British citizens.