China denies influencing the Venezuelan election in favour of President Chavez
Wednesday, September 26th 2012 - 07:19 UTC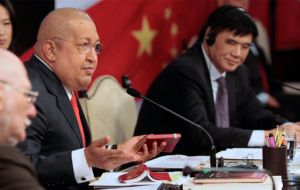 China has "no intention of influencing" the coming Venezuelan elections said a Foreign ministry spokesperson in Beijing following allegations from opposition presidential candidate Henrique Capriles that recent economic agreements signed between Beijing and Caracas are part of that strategy.
"The cooperation is commercial in nature and in the interests of the two countries and peoples. The claims that Chinese capital influences politics in Venezuela are totally groundless" said Foreign Ministry spokesperson Hong Lei on Tuesday.
So far in 2012, China and Venezuela have conducted a series of financial cooperation projects based on the principles of equality and mutual benefit. Relevant funds have mainly gone to Venezuelan projects in agriculture, infrastructure and energy, as well as joint programs between the two countries' enterprises, Hong said.
Hong's comment was made in response to a journalist's question on whether the large amounts of credit given to Venezuela by Chinese banks in recent years may influence Venezuelan election results and whether China's state-owned enterprises have violated Venezuelan regulations on working hours, conditions and safety.
The Chinese government has always supported and required Chinese enterprises investing abroad to comply with local laws and regulations, respect local customs and have equal and mutually beneficial cooperation with other countries, Hong said.
"Chinese enterprises in Venezuela also abide by the aforementioned principles," Hong
Last 21 September China and Venezuela signed several agreements in different fields among which a project to exploit one of the "larges gold reservoirs" in the country plus drafting a mineral resources map to be elaborated by the Chinese company Citic Group.
In reply to the announcement candidate Capriles said he would never deliver "to any country" the mineral resources of Venezuela to win the coming October 7 presidential election when President Hugo Chavez aspires to be re-elected for another six years.
It is believed that "Las Cristinas" mines are one of the largest gold reserves left in the world yet to be explored and exploited.
"An agreement has been signed to elaborate a mineral resources map of Venezuela; it is a high calibre project, with great structural significance for the economic and social development of the country", said President Chavez before meeting with a delegation from Citic Group.
Venezuela has a close trade link with China, particularly referred to oil and the construction of refineries with daily sales of 640.000 barrels to the Asian giant.