Pot-banging protestors follow Cristina Fernandez to her hotel in New York
Wednesday, September 26th 2012 - 07:02 UTC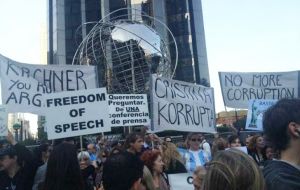 An estimated two hundred protesters demonstrated on Tuesday in front of the hotel where President Cristina Fernández is staying at in New York, holding similar signs to the ones seen at the September 13 pot-banging massive protest in Argentina's main cities.
The protesters assured that they were not there "for the dollars," referring to the exchange rate controls ('dollar clamp') set by the government, but for the corruption, the re-re-election, inflation and the pensioners.
The New York pot-banging protest in front of the hotel lasted two hours and had been summoned via social networks. The Argentine president was still at the UN headquarters when the protest began in front of the Mandarin Oriental hotel.
"Kirchner, you ruined Argentina", stated one of the signs seen at the protest.
"We don't want another Venezuela," "Freedom of Speech" and "Stop buying media" read other signs at the demonstration.
The Argentine president is scheduled to offer a speech at Georgetown University in Washington on Wednesday. And there already are great expectations over the speech she will give on Thursday at Harvard University, Boston, as it is said that she will answer some questions afterwards.
Following her speech before the assembly President Cristina Fernández met with her Egyptian counterpart, Mohamed Morsi and UN Secretary General Ban Ki-moon.
The president first met with Ban Ki-moon, whom assured that he remains "intent on keeping up with the mission of getting Argentina and UK to begin talks over the Malvinas Islands sovereignty claim," Foreign Minister Héctor Timerman said during a press conference.
The President also met with Egyptian leader Mohamed Morsi, in a meeting which Timerman deemed "very positive". The Argentine president accepted an invitation of the Egyptian president to visit his country, "the relation between both countries will be deepened in the upcoming months."