Santos 'cautiously optimistic' about peace but also ready to fight to ensure victory
Friday, September 28th 2012 - 01:42 UTC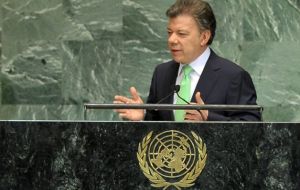 Colombian President Juan Manuel Santos said on Wednesday before the UN General Assembly he is "cautiously optimistic" that his government can reach a peace deal with Marxist rebels. Santos added he wants to return to New York next year and announce that his conflict-battered country has signed a peace agreement.
Peace negotiations are set to begin with the Revolutionary Armed Forces of Colombia, or FARC, in Norway next month. In a speech to the Americas Society, Santos said he hopes to come back to New York in 2013 and say, "There is peace in Colombia."
"I am optimistic, cautiously optimistic," he said. "I think the conditions are there", but his administration is also preparing for the other option.
While Santos has not set a deadline for completion of the peace talks, he has said he wants the process to take months, not years. "If we are successful, imagine what Colombia would look like," Santos said.
Membership in the FARC, (Revolutionary Armed Forces of Colombia) which was founded in 1964, has dropped to about 8,000 in recent years. The group is funded mainly by the cocaine trade and extortion and has resorted to recruiting children as support for its Marxist cause has waned. FARC is considered a terrorist organization by Washington and the European Union.
However and in support of those peace hopes for next year, President Santos sent a 2013 defence and internal security budget to Congress equivalent to 14.5 billion dollars, up slightly from last year and 15% of the overall national 103bn dollars budget.
"The coming budget anticipates 26 billion Pesos which is higher than this year's 23 billion Pesos", said Finance minister Mauricio Cardenas defending the bill in Congress. He added most of the sum was to pay for the 450.000 members of the security forces and pensions.
However the budget also contemplates 1.6 billion dollars in new equipment and ciber-technology which is 46% higher than the 2012 version. With the new equipment and communications system the government of President Santos expects to destroy or capture 60% of the country's cocaine production, fumigate 90.000 hectares planted with coke and capture 150 aircraft, 450 vessels and three submarines. Another 3.000 soldiers are to be recruited to keep fighting FARC and the National Liberation Army, ELN.
According to SIPRI, the international peace studies institute from Stockholm, Colombia spends the highest percentage of GDP in defence and internal security, between 3.5% and 3.7%. To this must be added the heavy costs of sabotage by the guerrilla groups which a local financial magazine estimates in 50 million dollars annually.
Minister Cardenas told Congress that the Santos administration wants peace, "but it is also preparing to continue battling and ensure victory".