Falklands' lawmakers at party conference meet Argentine ambassador Castro
Saturday, September 29th 2012 - 08:56 UTC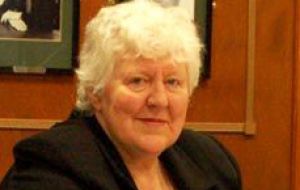 The Falkland Islands Government stand at the Liberal Democrat Party Conference in Brighton welcomed a number of senior party members including the leader Deputy Prime Minister Nick Clegg and the Argentine ambassador in London, Alicia Castro who was also attending the event.
Members of Legislative Assembly Jan Cheek and Ian Hansen attended the first of the British party conferences, which ran from Saturday until Wednesday afternoon.
"While not as busy as the other two conferences that I have attended several times in the past, we had a good number of interesting visitors to the new stand which was much admired with its huge Falklands map", said MLA Cheek.
As well as the Deputy Prime Minister they welcomed Deputy Liberal Democrat Leader Simon Hughes, Secretary of State for Energy and Climate Change Ed Davey and Sir Bob Smith Member for Aberdeen.
She added: "We had several visits from Jeremy Browne who repeated his thanks to everyone who welcomed him on his visit in June".
"I spotted the Argentine ambassador who made several passes by the stand before coming over with her companion. We had a brief conversation and gave her copies of all our literature which I said I hoped she would enjoy reading" said MLA Cheek.
Along with the Falkland Islands Representative in London Sukey Cameron the Falklands delegation was joined for a day by Michael Poole, "who managed to get to one of the medical related fringe activities and helped on the stand."
She said the general ethos of the conference, "is intelligent and very much in support of human rights including that to self determination," and although they encountered the occasional odd comment had, "interesting debates with passing party members, but were made very welcome". (PN)