Argentina will have to post 10m plus bond in Ghana to liberate ARA 'Libertad'
Thursday, October 4th 2012 - 20:50 UTC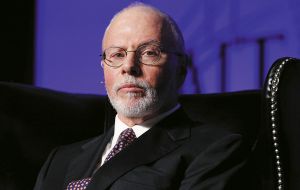 Argentina will have to come up with 10 million dollars or more as a bond to liberate the flagship of its navy, "Libertad" retained in the Ghanaian port of Tema, following on the request from a US hedge fund.
Earlier this week the Superior Court of Judicature granted NML Capital Limited, a commercial creditor of Argentina, an injunction and interim preservation order against the sailing ship ARA Libertad, which arrived Monday at Tema port, reports the Accra press.
The order requires the Libertad to remain at Tema pending hearings on the enforcement in Ghana of judgments against Argentina issued by the United States District Court for the Southern District of New York, supported by similar judgments in London.
"Argentina may obtain release of the ship, however, by posting a bond with the High Court in Accra", point out the local press mentioning the possible 10plus million dollars bond.
According to the request from NML Capital Ltd., "Argentina's status as an international scofflaw has been well documented. International creditors have won more than 100 court judgments against the Argentina government, but Argentina has refused to honour any of these judgments and has repudiated bonds which it issued in good faith".
A New York judge has characterized Argentina's refusal to pay its debts as an "absolute steadfast refusal to honour its lawful debts," and that the government is "defying deliberately, intentionally, and continually."
Argentina's treatment of creditors and debts also extends to international financial institutions and has "repeatedly ignored judgments issued by the World Bank's arbitral body, the International Centre for the Settlement of Investment Disputes (ICSID). In May 2012, the Spanish oil company Repsol filed the 50th ICSID case against Argentina".
Among G-20 countries, "Argentina accounts for 84% of pending cases at ICSID. It has consistently disregarded the rule of law".
The Accra press also underlines that in stark contrast, while Ghana has attained an exemplary ranking among nations of Africa on the Centre for Financial Stability's Rule of Law Index, "Argentina ranks near the bottom, because of its ongoing defiance of international covenants".
"Although a sovereign government is involved, such enforcement in Ghana of judgments from courts in the United States and England is commercial and routine".
Libertad is a "tall ship" used for training Argentina's future navy officers and Tema is one of more than a dozen ports where she is scheduled to call for training and supplies in its six-month circumnavigation of the Atlantic.
NML is a subsidiary of Elliott Management, a New York based investment fund engaged in the management of investments on behalf of pension funds, university endowments and other institutions and individuals.
Paul Singer who is founder and CEO of Elliott Capital Management fund bought Argentine debt at reduced prices during the country's economic crisis a decade ago, and now values those unpaid debts at more than 1.6 billion dollars.
From Buenos Aires Argentine diplomats have said publicly that they are working with Ghana to clear up the problem.