Falklands' commercial oil production projected to commence in 2017
Thursday, October 4th 2012 - 16:41 UTC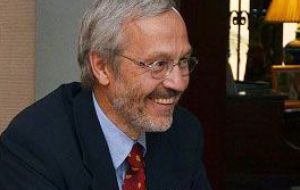 By Alicia Dunkley-Willis (*) - With commercial oil production projected to commence in 2017 for the 3,000 population Falkland Islands, efforts are now underway to ensure that the impending wealth does not upset the order here.
According to government minister with portfolio responsibility for the sector, Dr Barry Elsby, the government of the Islands is well aware of both the dangers and the advantages which come with the discovery of oil at Sea Lion field, which is north of Falkland waters.
"It is expected that the first oil will be in a super tanker by 2017 and the Falkland Islands will then become an oil- exporting nation," Dr Elsby said. At present, the majority of the Falklands revenues come from fish exports.
"Fishing despite all the efforts we put into maintaining viable fisheries, fishing is not entirely within our control... so our economy could fail, but the oil gives us much more security. But we also recognise that it carries downsides — mass immigration, huge amounts of money suddenly hitting a small community — so we are very much aware of that," the Falklands' official said.
"One of the big things we are looking at is the socio-economic effects of this oil find and how we are going to handle it, how we are going to maintain what is the good of the Falklands. This is a tremendously supportive community and what no one in the islands wants is to lose that sense of what is the Falkland Islands swamping us with mass immigration," Dr Elsby told Caribbean journalists on a media tour to the islands during a visit to his offices in the capital Stanley.
The inflow of workers, he said, will "have to be controlled along the lines of what Falklanders want".
In the meantime, he said despite arguments by feuding neighbour Argentina that the Falklands and the oil, by extension, belongs to it, Falklands "oil exploration has gone on successfully, despite their blockades, and there is no doubt the exploitation the development of the field, the producing of that oil will go equally well".
Meanwhile, Dr Elsby said in order to protect the Islands' thriving plant and animal life which is an attraction by themselves the plan is for the oil operations to remain offshore. He said the added safeguard was scenario planning, which was a requirement from the particular oil outfits. The current oil field has an expected productive life of some 30 years, pumping billions into the economy.
''We must do this sensibly, we must do this with thought for the environment," Dr Elsby said, adding that the government will be doing its own socioeconomic impact assessment separate and apart from those done by the oil companies.
The Falkland Islands has virtually no unemployment with official figures placing it at one per cent. Most Falkland Islanders have two jobs. One concern is that with the pending development there will be more labour than workers hence the government's thrust to review its current immigration policy.
(*) Ms Dunkley-Willis from the Jamaica Observer and other Caribbean journalists are currently touring the Falkland Islands