Rio mayor re-elected and will host Olympics; Sao Paulo, run off with the two main parties
Monday, October 8th 2012 - 06:23 UTC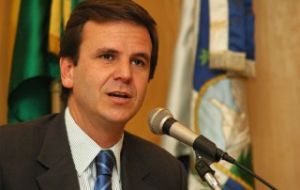 Rio Mayor Eduardo Paes has been re-elected with an overwhelming majority in the first round of Brazil's municipal elections. Paes from the centrist Democratic Movement Party will be in charge when Rio hosts the 2016 Olympics.
In Sao Paulo, Brazil's industrial and financial hub, Jose Serra of the Social Democratic Party will face Fernando Haddad of the governing Workers' Party in the second round.
More than 5,000 mayoral posts were up for election across the country.
With almost all the voted counted, Mr Paes had 64.6% of votes, the Supreme Electoral Tribunal announced. He was far ahead of his main rival Marcelo Freixo of the left-wing Socialism and Freedom Party.
Backed by a coalition of 20 parties, Mr Paes campaigned on a promise to improve transportation and the health and education sectors in the city.
As mayor, he will be the host not only of the Olympic Summer Games in 2016 but also of the 2013 FIFA Confederations Cup and the 2014 Football World Cup.
Mr Paes promised to "work hard and treat the citizens with a lot of respect".
Olympic and FIFA officials have in the past expressed concern that many of the city's major building project are behind schedule, including the renovation of the Maracana stadium.
Activists say many of the planned roads and rail lines will run through some of Rio's poorest neighbourhoods, forcing the eviction of those living there.
In a surprise result in Sao Paulo, high-profile former champion of consumer rights, Celso Russomanno, failed to make it into the second round of the mayoral election.
He was beaten into third place by Fernando Haddad of President Dilma Rousseff's Workers' Party. Former president Lula da Silva campaigned strongly for Haddad.
Mr Russomanno had led opinion polls for weeks but had seen a drop in support in the last few days before polling which he blamed on fierce attacks from his two leading opponents. The second round will he held on 28 October.