BAS merger plan triggers debate; fears of 'diminished' British presence in Southern Ocean
Wednesday, October 10th 2012 - 19:33 UTC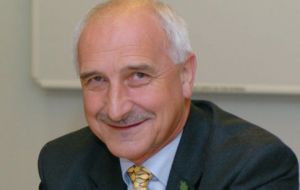 UK government plans to merge the British Antarctic Survey with the National Oceanography Centre have triggered global debate among scientists and politicians with former US Vice-president Al Gore wading into the discussion and fears in the Falkland Islands of a diminished "British presence" in the region.
"Any moves that could weaken the globally significant British Antarctic Survey would be a mistake; in my view retaining the core elements of BAS, integrated into a single unit with strong leadership, is of supreme importance, both as a UK national and international asset" said Al Gore who also won the Nobel Prize for environmental campaigning.
Under the proposals the BAS would merge with the National Oceanographic Centre (NOC) by 2020 to create a single body responsible for marine and polar science. It is expected that if the two combine, the new centre would be based in Southampton.
The NOC – which employs around 5.000 people through its centres in Southampton and Liverpool – currently has its main base at Dock Gate 4.
Fears have also been raised that reducing the British presence in the Southern Ocean could also encourage sovereignty claims over the Falklands and other Islands.
The polar research unit has been the UK operation in Antarctica since 1962 and among other milestones BAS scientists were first to discover the ozone layer hole in the 1980s.
The Falkland Islands Government has been asked for his views on the proposal.
There have been concerns that a new organisation might see the dropping of the British part of the British Antarctic Survey's name.
"It is important symbolically that the British part of the name is retained", pointed out Falklands' lawmaker MLA Mike Summers.
The issue will be decided by the Government-funded Natural environment Research Council which welcomed the former vice-president's input