With hunger, the only acceptable number is "zero"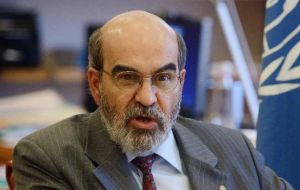 By Jose Graziano da Silva, Director General of the UN Food and Agriculture Organization - Achieving the first Millennium Development Goal (MDG) of halving the prevalence of hunger in the world by 2015 is still within reach, but a strong, sustained acceleration of efforts is needed. Progress made in the fight against hunger since the middle of the last decade has lost steam, and it is time to regain momentum.
The global number of chronically hungry people has declined by 130 million since 1990, falling from a little over one billion people to 868 million - 852 million of them in developing countries.
Progress was made not only in terms of overall numbers, but also in the proportion of the population who are undernourished. This has dropped globally from 18.6% in 1990 to the current level of 12.5%, and from 23.2% to 14.9% in developing countries.
That is better news than we have had in the past, but it still means that one person in every eight goes hungry. That is unacceptable, especially when we live in a world of plenty.
Particularly appalling is the situation in Africa, where the number of hungry has gone up in the last 20 years - from 175 million in 1990 to 239 million.
These figures are included in this year's The State of Food Insecurity in the World (SOFI) -- the world hunger report published by the Food and Agriculture Organization of the United Nations, the International Fund for Agricultural Development and the World Food Programme. In this edition, SOFI uses better data and an improved methodology, developed with the help of experts from around the world to estimate hunger.
The figures show that most of the progress in hunger reduction was made until 2006, as food price levels continued to decline. With the rise in food prices and the economic crisis that followed, there have been many fewer advances.
This slowdown in the pace of hunger reduction confirms that, in a world with sufficient food for everyone, the main cause of hunger is a lack of access: Worldwide, millions of people are unable to buy the food they need to survive!
With the benefit of hindsight, we now know that the combined effects of the international food-price spikes in 2007-2008 and the subsequent economic crisis were not as great as was feared at the time.
The spikes in world food prices were apparently mitigated by coping responses from governments and households, and the spread of the economic slowdown to developing countries was slower than originally expected.
However, higher food prices can have other consequences for poor families, as they may switch to higher-energy, but less nutritious, foods to maintain their caloric intake.
In the present context of uncertain economic growth in addition to higher and more volatile food prices, reinvigorating broad-based economic growth will be crucial to making further progress towards the MDG hunger target.
It will depend on whether we can enable the two billion people who earn their living from agriculture, and who account for most of the poor in the world, to benefit from rural growth. Let's not forget that high agricultural prices can be an opportunity for poor farmers, provided conditions allow them to seize that opportunity.
This involves, inter alia, creating the conditions for development of the productive sectors, especially smallholder agriculture; ensuring equitable access to resources for the poor and for women in particular; building resilience in poor rural families; and designing, financing and implementing social protection for the most vulnerable.
Improved governance - based on transparency, participation, accountability, rule of law and human rights - is also essential.
Among other priorities, we must reduce the huge amount of food lost or wasted every year - estimated at around a third of total production!
We must also start paying more attention not only to the quantity of food available to people, but also to its quality. Increasingly, the world is faced with a double burden of malnutrition, a cruel caricature of inequality in the world today. Chronic under-nourishment co-exists with micro nutrient malnutrition, which affects well over 1.4 billion adults worldwide, with all that it implies in terms of diet-related diseases, such as obesity.
Even if we halve the world's hungry by 2015, what do we say to the other half? We need to start looking beyond the MDGs and towards the total eradication of hunger, answering the call made by UN Secretary-General Ban Ki-moon in his "Zero Hunger Challenge" at the Rio+20 Summit. It links the achievement of food security to the elimination of childhood stunting through sustainable production and increased small-scale productivity.
Bold goals are needed so that society as a whole can embrace this cause, supporting and pushing governments to transform political will into action on a broad enough scale to eradicate hunger.
With hunger, the only acceptable number is "zero".