Unasur leaders to discuss peace, security and cooperation protocol in Peru
Thursday, October 11th 2012 - 23:53 UTC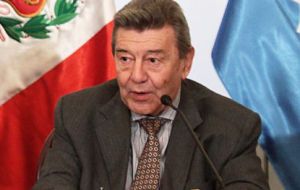 Unasur presidents will be meeting next 30 November in Lima to discuss the Protocol on Peace, Security and Cooperation in the framework of a greater debate referred to democracy and integration, and democracy and social inclusion, announced the Peruvian Foreign Minister Rafael Roncaglio.
The minister said the leaders will debate the protocol which pretends to create confidence building conditions in defence issues, exchange of information and advance in mine sweeping tasks in border areas such is the case of Peru with Ecuador and Chile.
Peru currently holds the pro-tempore chair of the Union of South American Nations, (Unasur) and the Peace, Security and Cooperation Protocol to be discussed was agreed in an extraordinary meeting of Foreign and Defence ministers from Unasur held on 27 November 2009 in Ecuador.
In Quito is was decided to name a task force responsible for the elaboration of an agreement that integrates the Peruvian proposals for a peace protocol with Chile, so as to build a South American "security architecture", and Ecuador's initiative on a Code of Conduct for Unasur country members.
So far five meetings have taken place to discuss a document that is expected will help define the framework of relations among States, procedures regarding military affairs and the affirmation of principles such as rejecting the threat or use of force, respect for territorial integrity and sovereignty, and non intervention in internal affairs plus dialogue and peaceful means for the solution of any controversy.
All South American countries including, Suriname and Guyana are members of Unasur, an organization masterminded by Brazilian diplomacy.