Argentina inflation in nine months of 2012 reached 18%, says "Congress index"
Friday, October 12th 2012 - 06:06 UTC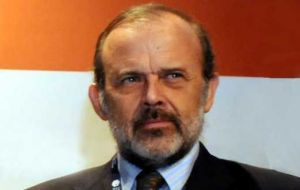 Argentine opposition lawmakers presented on Thursday September's 'Congress inflation index' based in the analysis of nine private agencies, which showed a 1.93% increase against the previous month and 18% in the first nine months of 2012.
The data was presented at Congress by lawmakers Federico Pinedo, Pablo Tonelli, Paula Bertol (PRO), Ricardo Buryaile, Elsa Álvarez, Julio Martínez (UCR), Eduardo Amadeo (Peronist Front) and Patricia Bullrich (Unión por Todos).
"This 1.93% index is the highest registered in the last months. The food and beverages sector are the items that increased the most, 24%" added lawmaker Buryaile who revealed that "since 2007 the 100 pesos banknote has lost two thirds of its value".
Lawmaker Bullrich from the city of Buenos Aires said "it is painful, but 1.93% is the highest monthly jump since 1990, when Argentina almost suffered a bout of hyperinflation".
She underlined that the situation is "of great concern because despite the evident cooling of the economy, inflation keeps soaring"
Peronist dissident Amadeo revealed he had received a letter from a magistrate, whose name he did not reveal requesting "a copy of the Congress index which he needs for a ruling in a civil case involving a case of alimony and child support".
"I won't give the magistrate's name because we don't want him sacked, but it is evident that if he were to apply the official inflation rate delivered by Indec (government's stats office) he would be condemning that family to a miserable situation".
The 'Congress index' started to be delivered by the Lower House Freedom of Speech Committee following the administration of President Cristina Fernandez decision to sanction and fine those private agencies specializing in economic issues which made public their inflation estimates.
It has become a monthly event closely followed by the business community, unions and the Judicial branch, given the disparity with Indec official figures, usually half or a third of the private estimates.
Argentina's alleged manipulation of crucial stats for the economy such as inflation and GDP growth have led to repeated clashes with the IMF and other multilateral organizations.