Argentine official inflation in September 0.9%, less than half private estimates
Saturday, October 13th 2012 - 08:24 UTC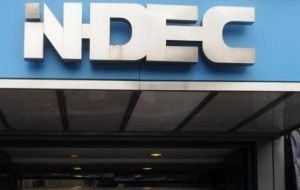 Official inflation in Argentina reached 0.9% in September against August, accumulating 7.8% in the first nine months of this year and 10% in the year, according to the Indec national statistics bureau.
The items that increased the most were Medical Assistance and health expenditures, 1.9%; followed by Clothing which rose 1.6% and Equipment and home products, 1.1%. Food and beverage was up 0.8%, Transport and communications, 0.8% and Housing and basic services, 0.6%.
Meanwhile the wholesale prices index gained 1% in September against the previous month, and 12.8% year-on-year. Construction costs were up 0.5% in September; 21.3% in nine months and 25.7% year on year.
The Indec announcement is significantly below the so called Congress index, released on Thursday which showed inflation had reached 1.93% in September, 18% in nine months and 24% in the year The Congress index, released by opposition members from the Freedom of Expression committee, is an average of nine private agencies exposed to serious sanctions if they make public their indexes.
The latest figures also come when an Argentine delegation is currently in Japan at the IMF annual assembly, the multilateral organization that has repeatedly clashed over the reliability of Argentine official statistics on inflation and GDP.
The IMF has said Argentina must comply with a review of its stats by December 17, the third time the date has been moved since both sides agreed to a review of the whole system.