Brazil good at global PR, but loses ground as an IMF group leader
Monday, October 15th 2012 - 07:50 UTC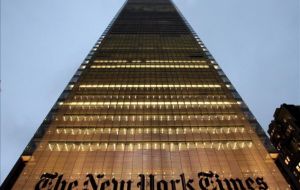 A good one and a bad one for Brazil: The New York Times announced on Sunday that it will launch an online edition Portuguese language edition in 2013 given the country's growing global clout, but on the other hand Brazil's nine nation constituency at the IMF will lose a member, Colombia that will join Mexico.

In the presentation the NYT said the new Web edition will provide NYT quality content to an audience in Brazil that is educated, affluent and connected with the rest of the world. It will feature English to Portuguese translations of the best of NYT award winning journalism alongside original work by local writers contributing to NYT.

The site will include coverage of global affairs, business and culture as well as other subjects of particular interest to the Brazilian reader. The NYT will publish 30-40 articles per day on the site along with photography. About one third of the reporting will be original content designed specifically for the Brazil site. Graphics and multimedia will be introduced over time.

However the news from Tokyo was not that encouraging. Colombian Central bank head Jose Dario Uribe announced that instead of Brazil's nine-nation constituency on the IMF 24-member executive board, Colombia will join forces with a group led by Mexico.

Banker Uribe, in an interview at the IMF meetings, didn't say whether the decision to switch chairs was motivated by any disagreement with Brazil.

"It's a group where there's receptivity toward a country like Colombia, where there are great historical and commercial ties," Uribe said of Mexico. He said details of the move will be announced later.

As part of its new group, Colombia will share leadership responsibilities on a rotating basis with Mexico, Spain and Venezuela, Mexican Deputy Finance Minister Gerardo Rodriguez said in an interview also in Tokyo.

Colombian President Juan Manuel Santos' government has boosted ties with Mexico, which Nomura Securities forecasts could overtake Brazil as Latin America's No. 1 economy within a decade. Currently Brazil's 2.4 trillion dollars economy is more than twice the size of Mexico's, according to IMF data.

Mexico and Colombia came together earlier this year to create the Pacific Alliance of the region's most-open economies, taking distance from the Brazil and Argentina-led Mercosur trade pact, which has been raising import restrictions amid the global economic slowdown.

Colombia also followed Mexico, Peru and Chile -- all members of the fledgling trade group -- and implemented a free trade agreement with the US.

However Nicaragua and the Portuguese-speaking nations of Cape Verde and East Timor will be added to the constituency represented by Brazilian executive board director Paulo Nogueira Batista.

Still, the three countries combined have fewer than half of the 8,477 votes corresponding to Colombia, meaning the country's departure will reduce Brazil's voting share on the board. Colombia is the biggest of eight Latin American nations that belong to Brazil's constituency, a group that also includes the Dominican Republic, Ecuador and Trinidad & Tobago.