Minister confirms talks for re-incorporation of Paraguay to Unasur and Mercosur
Monday, October 15th 2012 - 07:58 UTC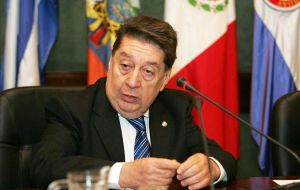 Foreign minister Jose Felix Fernandez Estigarribia confirmed the beginning of negotiations for the re-incorporation of Paraguay to Unasur and Mercosur which will take place through the mediation of a Latinamerican country he did not identify.
Fernandez Estigarribia confirmed that last week he flew to the US to meet with one of his peers from the Union of South American Nations, who had invited him to hold preliminary talks in the US, considered "neutral ground".
"I met an only Foreign minister, whose name I can't reveal for the moment" said the Paraguayan official. He added the meeting was part of the process to explain to Unasur "our point of view".
The minister also confirmed that as had been advanced by the Asuncion press, at least two Latin American ambassadors would soon be returning to Paraguay, and the most probable candidates are Chile and Colombia.
"Paraguay is expecting in the short term for many more ambassadors to begin returning as is happening. But I prefer not to talk about dates or timetables because they might not coincide. Let's talk about it once they are really back", said Fernandez Estigarribia.
The minister admitted that one of the points in the agenda is referred to Unasur special observers, following on statements from the Brazilian Foreign Minister Antonio Patriota who admitted the possibility of a return before the 2013 elections, if there is evidence of "full rule of democracy" in Paraguay.
"This is part of the negotiation. We have stated from the very beginning that we are willing to dialogue. But what we can't admit is to be judged, sanctioned and later telling us they're sending observers, a kind of guardians".
"It's the Paraguayan people, not a Foreign ministry that can come up and complain there is no democracy in Paraguay; but we have full freedom, freedom of expression, freedom of the press, freedom of movement; there are no political prisoners, no one is politically persecuted", underlined Fernandez Estigarribia.
Regarding the incorporation of Venezuela as full member of Mercosur, the minister said that it was "a decision, illegal decision, adopted by the other members in an illegal way. One of the future dialogues will be how to solve this problem".
Finally diplomatic sources reiterated that current discussions are two-legged: on the one side closer relations with Unasur members to admit there is full rule of democracy in Paraguay and the second is more cumbersome and involves the Paraguayan Executive and Legislative.
This would mean reviewing the position on the incorporation of Venezuela to Mercosur: all sides admit the current situation of Venezuela is that of an 'associate member', until the Paraguayan Senate formally approves the adhesion protocol and thus Venezuela becomes full member.