Scotland to hold an independence referendum before the end of 2014
Monday, October 15th 2012 - 18:32 UTC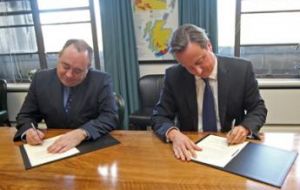 A referendum on Scottish independence will take place before the end of 2014 following an agreement signed on Monday by UK Prime Minister David Cameron and Scottish leader Alex Salmond.
Voters as young as 16 will answer a single yes/no question on whether to end the 305-year union with England.
Currently, polls show between 30-40% of Scots are in favor of independence.
After his Scottish National Party landslide election victory in Scotland last year, Salmond gained the right to hold a referendum.
Legislation, which will include decisions such as the exact date of the vote, the wording of the question and the rules of campaign financing, will take place in Scotland's parliament at Holyrood.
The country has had its own devolved parliament since ninet1999 after another referendum the year before. Some are complaining that the forthcoming referendum will not give people the chance to vote for increased devolution.
Scotland's drive for sovereignty led by nationalist leader Salmond, echoes separatist moves by other European regions such as Catalonia and Flanders at a time when a crisis-hit European Union is undergoing deep changes to its identity.
Nationalists have timed the vote to coincide with the 700th anniversary of the Battle of Bannockburn when Scottish forces led by Robert the Bruce defeated English invaders.