Bolivia sells 500m dollars bond with 4.875% yield; first time in ninety years
Monday, October 22nd 2012 - 19:51 UTC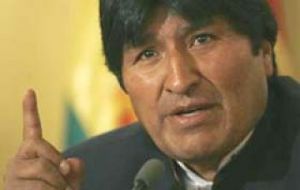 Bolivia returned on Monday to global credit markets for the first time in almost a century with the launch of 500 million worth of 10-year bonds, reflecting investors' confidence.
Monday's bond was launched at a yield of 4.875%, Thomson Reuters news service IFR reported. Pricing details were yet to be announced.
Bolivia's first indigenous president Evo Morales has tightened state control over the Andean country's commodities-based economy with a string of nationalizations, but Wall Street has praised his government's prudent macroeconomic policies.
The Bolivian yield compares with the record low 2.686% achieved by neighbouring Brazil when that country sold 1.25 billion of dollar-denominated 2023 bonds early last month.
Bank of America Merrill Lynch and Goldman Sachs were the lead managers of Bolivia's deal, which marks the country's first international bond foray in roughly 90 years.
Bolivia, historically one of South America's most unstable countries, has enjoyed a period of relative prosperity and calm since Morales was elected in 2005. While still the poorest country in the region, Bolivia's natural gas and mining-dependent economy has expanded an average of 4.7% over the last seven years.
According to the IMF, the Bolivian economy is estimated to grow 5% or more in 2012 for a third year running.
S&P raised Bolivia's credit rating in May to BB-, or three levels below investment grade citing the country's diminishing debt levels and rising international reserves. Debt dropped to the equivalent of 36.6% of GDP last year.