Loyal unions give Argentine government 40 days to raise the income tax floor
Monday, October 22nd 2012 - 04:45 UTC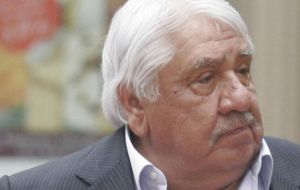 The branch of Argentina's organized labour that supports President Cristina Fernandez gave the government forty days to raise the income tax floor, which with double digit inflation is including an ever increasing number of wage earners.
The secretary-general of the energy workers union, Oscar Lescano said that "workers are demanding a positive answer to the raise of the income tax floor and we think a forty days timetable is more than sufficient".
He added that he supports Cristina Fernández administration but "does not completely support all of her decisions".
Lescano insisted that the cordial relations between the CGT led by Antonio Caló and the Government will last up to "30, 40 days tops" if they do not increase the income tax floor.
"We hope to have a reply, and not a too tough one," he said in interview with La Nación newspaper.
The union leader also clarified that he is against a potential re-re-election of the President and although he is currently not backing any alternative candidate for the 2015 elections, "the only one I would like is (Buenos Aires province governor Daniel) Scioli".
Meanwhile CGT Labour Confederation Secretary General Hugo Moyano defended the meeting he is having on Monday with Buenos Aires City Mayor Mauricio Macri as part of the annual meeting of the Agricultural Workers Trade Group led by the head of the UATRE farm hands union, Geronimo Venegas, who is one of his allies.
"This is good for the country, and is an attitude that the public demands", said Moyano during a radio interview.
"There is nothing wrong with seeing Macri. I have no reasons for dodging a picture with him. He's been elected by the citizens of Buenos Aires and I do respect that", the unionist added.
Moyano until a year and a half ago a crucial ally of President Cristina Fernandez broke with the government when it became evident that she was openly sponsoring to remove him from the leadership of organized labour. As a result the CGT is now split between a branch that supports President Cristina Fernandez, (such as Caló and Lescano) and the other more militant with Hugo Monayo who has joined the opposition inside the ruling Personist movement.
By meeting with Mayor Macri he could be moving even further joining the opposition arch to the Argentine president and flirting with the man that is emerging as the opposition reference.
Moyano has also clashed with Cristina Fernandez over inflation stats, and revealed that organized labour has its own monthly measurement mechanism, 'supermarket prices', and has been demanding for well over a year that the government raises the income tax floor.