Argentine with 'clear long term policies' can easily become the 'Saudi Arabia of food'
Tuesday, October 23rd 2012 - 07:01 UTC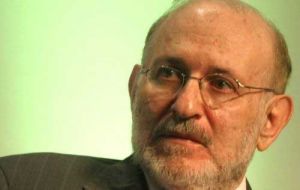 Former Argentine central bank president, IMF economist and Bank of England consultant Mario Bléjer said that with clear long term policies Argentina could rapidly become the "Saudi Arabia of food" because food demand at world level will grow 20% in the next decade.
Bléjer was one of several distinguished panellists at the IDEA economic colloquium, one of the main economic-prospects events of Argentina, and which in his particular field addressed the "Strategic economic sectors for Argentina" analyzing the agro-industrial chain and the significance of soybeans.
The economist considered that soybean is 'strategic' and could definitively make Argentina a 'successful' country at world level given its domestic and international impacts.
"The combination of the characteristics of that agro-industrial chain and the role it plays helping Argentina to insert in the world, is what makes soybean so successful and strategic", said Bléjer.
"The crucial issue in agro-industry is global food security. There is much talk about the long term and in that filed is where Argentina can play a leading role", he added.
Bléjer pointed out that "the estimates are that food demand will increase 20% in the next decade" and that demand can barely be satisfied because supply is growing at a slower pace than before or to which we were accustomed.
"Growth in supply could satisfy demand but not provide the stocks which are the shock-absorbers for volatility" said Bléjer and there is an element of price increase in the long term.
In this context and with an adequate development of the agro-industrial chain is where "Argentina with an adequate policy has the chance of sitting down in the world's big decisions table and play an important role in global affairs".
"The soybean agro-industrial complex consolidates the characteristics of the chain and also can accomplish a favourable role in world food security", underlined Bléjer.
"Argentina is a global power in food exports and without exaggerating if things are well planned in the long term, Argentina could become the Saudi Arabia of food".
To that effect "the soy industry is pushed by foreign demand and with the production technology Argentina has, the country is in a most advantageous situation".

"Argentina with three times less plants than Brazil produces more tons annually of soymeal and soyflour which shows the efficiency of the local industry and a crucial factor at global level in food security".
Finally Argentina represents 60% of world exports of soy flour, with the three main competitors, the US, Brazil and China, which also happens to be Argentina's main client for soybeans.