Brazil's primary budget surplus rapidly narrowing but Central bank confident target is within reach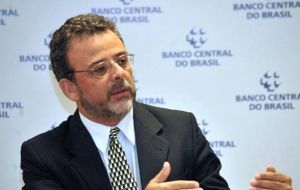 Brazil's primary budget surplus narrowed in September, distancing the government from its full-year surplus target, but the central bank said that target is still within reach. The accumulated primary surplus of January through September narrowed to 75.8 billion Brazilian Reais (37.3 billion dollars) from 104.6 billion Reais in the same period a year earlier.
The President Dilma Rousseff administration full-year target is 139.8 billion Reais, 8.6% wider than the 2011 surplus.
Economic growth was sluggish at the beginning of the year as the effect of global slowdown was larger locally than the government had expected. The government responded by lowering taxes on several types of goods to spur domestic spending. The surplus has narrowed but the outlook for the rest of the year is for improvement, said the central bank's statistics coordinator Tulio Maciel.
"The economy already shows clear signs of recovery, and that will [increase tax] revenue in the last quarter," Mr. Maciel said in a press briefing. "So it's still possible to reach the [primary surplus] goal for this year."
If the primary surplus ends short of the target, the government can --as it has in the past--subtract infrastructure investment from its spending bill, thereby permitting it to claim it had indeed reached the target.
The primary budget surplus narrowed to 1.6 billion Reais in September from 3bn Reais in August. Including interest payment, the primary budget was 12.3 billion Reais in deficit in September, and 85.6bn Reais in deficit for January-September--equal to 2.63% of GDP.
Brazil paid 13.8bn Reais in interest in September, and 161.4bn Reais in January-September--9% less than in the year-prior period. The difference was due to lower interest rates and slower inflation, Mr. Maciel said.
With the latest monthly figures, the 12-month primary surplus narrowed to 99.9 billion Reais or the equivalent of 2.3% of GDP, from 106.4bn Reais in August.
Net public-sector debt rose in absolute terms in September to 1.53 trillion from 1.52 trillion in August. As a percentage of GDP, the debt rose to 35.3% from 35.1%.
In relates news the Brazilian Geography and Statistics Institute, IBGE said that prices at Brazilian factory gates rose for a seventh-consecutive month in September as beverage and chemicals prices advanced sharply during the month.
Brazil's official IPP producer price index advanced 0.72% in September compared with downward revised 0.52% growth in August. The index, which was launched in 2011, measures monthly variations in product prices at the factory gate, not including taxes or freight charges.
The IPP rolling 12-month rate was 6.99% through September compared with 7.53% advance through August, the IBGE said.
The IPP covers price data on raw materials and processing in 23 industrial segments that represent about 70% of factory activity, including food, textiles, pharmaceuticals, fuels, vehicles and shipbuilding. The index does not yet contain oil production and mining, which are expected to be included later in 2012. Other services such as transportation, lodging, telecommunications and agriculture will also be included at a later date. The IPP figures are not seasonally adjusted, but will be revised.