Iran/Argentina dialogue 'positive' and will continue end of November, says Timerman
Wednesday, October 31st 2012 - 20:22 UTC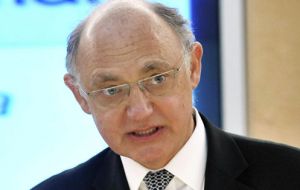 Foreign Minister Héctor Timerman announced at Government House in Buenos Aires that new negotiations between diplomatic representatives of Argentina and Iran over the investigation into the 1994 AMIA terrorist attack, will take place before the end of November.
The statements came after three days of meetings between authorities of both nations at the UN's headquarters in Geneva, Switzerland.
Being of a secretive nature as both delegations have refused to comment on the issues or topics discussed, Wednesday's meeting was scheduled with the intention of being the final session of dialogue but not the last.
Timerman only said that the outcome was "positive", and added that the Argentine's government intentions are only those of bringing relief and justice to the victims of the attack that killed 85 people and injured 300 on 18 July 1994, at a Jewish community centre in the heart of Buenos Aires.
The Argentine delegation was led by Deputy Foreign Minister, Eduardo Zuaín, and Foreign Ministry councillor Susana Ruiz Cerruti. The current dialogue round was agreed by Argentina and Iran Foreign ministers on the sidelines of the UN General Assembly, 27 September.
Inside sources, cited by the Noticias Argentinas agency, asserted that "all the alternatives are on the table," referring to the possibility of a trial being held in a neutral country as proposed by Argentina or the intervention of both countries' supreme courts to try the accused.
With no clear advancement, Ramin Mehmanparast, a spokesperson for the Foreign Relations Ministry, stated on Tuesday "we condemn terrorism and reject the accusations against our citizens," speaking at a routine press conference.
Nevertheless, the Tehran representative affirmed that Iran is "willing to undertake a detailed revision process to help determine who the perpetrators were", and added, "negotiations with Argentina are on due course and will continue until a clear conclusion is reached."
The round of talks was highly criticized and questioned by the Israeli government and the Argentine Jewish community, who have expressed their lack of trust in Iran and condemned the approach made by the administration of President Cristina Fernández.
The current AMIA president, Guillermo Borger, asserted that the opportunity for bilateral dialogue had "come and gone" when the "Iranian Foreign Ministry upheld that its citizens have no connection to the attack."
Eight Iranians are accused by Argentina of organizing the bombing, including the current Iranian defence minister and other high-ranking officials. In 2006, the Argentina ordered the international arrest of eight Iranians, including Ahmad Vahidi, the current Defence Minister; Moshen Rabbani, a former cultural attaché at the Iranian embassy in Buenos Aires; and Hadi Soleimanpour, the Iranian ambassador in 1994 and currently a deputy minister of the Iranian Foreign Ministry.