Iran insists in denying any involvement in deadly attack on Jewish centre in Buenos Aires
Wednesday, October 31st 2012 - 03:54 UTC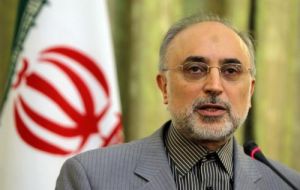 Iran's government rejected once more the involvement of any Iranian citizen in the 1994 AMIA Jewish Centre terrorist bombing, but indicated to be ready to help into identifying those who could have committed the attack.
"Here, today, we condemn terrorism and reject any accusations against our citizens, and show our willingness to conduct a deep investigation to find out who perpetrated the terrorist attack" indicated on Tuesday in Teheran the Foreign Ministry's spokesman Ramin Mehmanparast according to local media.
Likewise, Mehmanparast remarked that "negotiations with Argentina will continue until we arrive to a clear conclusion."
On Monday diplomatic representatives of both countries met in the UN's headquarters in Geneva, Switzerland in order discuss the possibility of collaborating in the investigation into the AMIA case.
Details of the discussion were not disclosed. The meeting was criticized by the Israeli government and the Argentine Jewish community. On Tuesday both delegations met for what is going to be their final audience.
The dialogue was agreed on the sidelines of the UN General Assembly by Argentine Foreign Minister Hector Timerman and his Iranian counterpart, Ali Akbar Salehi, pledging to continue until they reach a "mutually agreed upon solution."
Timerman at the time said the follow-up talks were to "explore a legal mechanism" for resolving the matter "not in contradiction with the legal systems of Argentina and Iran".
Eight Iranians are accused by Argentina of organizing the bombing, including the current Iranian defence minister and other high-ranking officials. In 2006 a special Argentine prosecutor issued arrest warrants for the eight Iranians.
The Argentine government and courts insist there is an 'Iranian connection' in the attack presumably implemented by the Teheran sponsored Hezbollah terrorist group with local support in Buenos Aires. The attack levelled the Jewish centre in the heart of Buenos Aires killing 85 people and injuring over 300.
The attack, the deadliest ever in Argentina's history, followed a 1991 bombing of the Israeli embassy in Buenos Aires that left 29 dead and 200 wounded.
The Argentine delegation is headed by the attorney Angelina Abbona, who was later joined by the Deputy Foreign Minister Eduardo Zuain and Ambassador Susana Ruiz Cerruti.