Fears the African Swine Fever outbreak in parts of Russia is out of control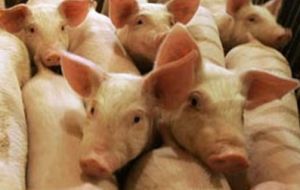 According to official data from Moscow veterinary services, for the first nine months of 2012, in total 500,000 pigs were slaughtered in order to stop the spread of African Swine Fever (ASF) in Russia.
Compared with the level in 2010 the number of pigs in the Krasnodar region decreased threefold. This year 160,000 pigs were culled as a result of outbreaks of ASF. Their carcasses were burned in specially designated areas away from the pig farms.
Russia's chief sanitary inspector, Gennady Onishchenko, recently said that the spread of ASF still can not be stopped in part because it is not dangerous for humans, and as the result that farmers use to sell contaminated pork on the market and hide facts of outbreaks of the disease.
"People do not suffer from African Swine Fever. And therefore there is no major concern regarding it. Therefore, since 2007, when ASF was first registered in the Krasnodar region, the fight against it completely failed.
"If we buy the infected meat, eat it, we do not get sick, but the virus can be brought to the farm, can get in crop production – and soon the virus will circulate everywhere," he said.
Meanwhile, in the regions first guilty verdicts were given to officials and heads of veterinary services. The chief veterinarian of Timashevsky District of the region Konstantin Kunenko was found guilty under part 1 of Article 293 of the Criminal Code ("Negligence, involving a substantial violation of the rights and legitimate interests of the State") and sentenced to a fine of 120,000 roubles (4.000 US dollars), almost a year's salary received by veterinarians in Russia. (Argentine Beef Packers).-