Peru reminds Argentina Shinning Path terrorists are an illegal group
Saturday, November 3rd 2012 - 03:49 UTC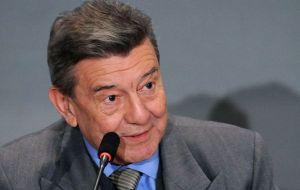 Peru slammed reports that Movadef, the nascent political wing of the Shining Path armed group, had met with representatives of human rights groups in Argentina, including the Mothers of Plaza de Mayo Association, with the aim of gaining political credibility.
Peru's Foreign Minister, Rafael Roncagliolo, on Thursday "firmly deplored that members of (Movadef) had been received by representatives of non-governmental social organizations" in an official statement.
According to the statement, Peru's ambassador to Argentina, Nicolás Lynch, "held direct conversations with the Argentine Security Minister, Nilda Garré, with the aim of transmitting the Peruvian government's rejection of the activities of said group in Argentina. At that time, the Peruvian Ambassador gave the Argentine authorities police information about Movadef's prior acts and current activities."
"As the government continues to gather information about Movadef's activities abroad through diplomatic channels and police cooperation, the Foreign Minister added that it had instructed all Peruvian diplomatic missions to preventatively inform the authorities in each country on the nature and record of the organization" continued the text.
The response was provoked by online reports that representatives of Movadef, a political party recently banned in Peru due to their connections with the Shining Path guerrilla group that terrorized the country in the 1980s, had met this week with Nobel Peace Prize laureate Adolfo Pérez Esquivel and the Mothers of Plaza de Mayo.
Peruvian anti-terrorism prosecutor Julio Galindo was reported in Peruvian media describing Movadef as a "clandestine group that is not even recorded in Public Registers or in the national Electoral Register of Political Parties," which is why it was not necessary for the Foreign Ministry to issue the statements.
At the end of April, the Peruvian government protested to Chile over a demonstration held in Santiago supporting the Shining Path. The protesters demanded the release of Abimael Guzmán, the head of the movement, and other members of the group. Movadef, which stands for the Movement for Amnesty and Fundamental Rights, has been trying to register itself as a political group for the past year, without success.
Shining Path was defeated militarily and politically in 1992, with the capture of Guzmán, who is currently serving a life sentence. However, a group consisting of remnants of the Shining Path is currently active in the valley of the Apurímac and Ene Rivers, allied with drug smugglers and constantly involved in skirmishes with security forces and have ambushed and killed several members of the Peruvian police and army.