Argentina to blast 'vulture funds' at the G20 ministerial meeting in Mexico
Sunday, November 4th 2012 - 06:24 UTC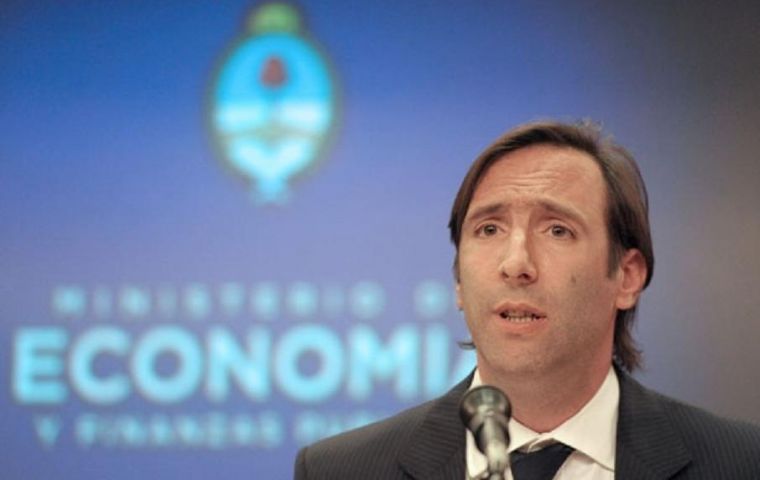 Argentine Economy Minister Hernán Lorenzino and Central Bank Governor Mercedes Marcó del Pont are leading the country's delegation in the technical G20 meeting in Mexico, where they are expected to insist on the government's criticisms against 'vulture funds' and credit rating agencies.
The Government officials are taking part of different meetings during the weekend, including a dinner that Lorenzino will share with fellow Finance Ministers. International Monetary Fund chief Christine Lagarde and World Bank president Jim Yong King will also take part of the dinner.
On Sunday, following the traditional "family photo" finance ministers will meet and later issue a formal declaration and a communiqué stating the results of the meeting.
The G20 group represents 85% of the world GDP and includes the following countries: Germany, Canada, US, UK, France, Italy, Japan, Argentina, Australia, Brazil, China, South Korea, Russia, South Africa, Indonesia, India, Mexico and Turkey.
Earlier in the week Minister Lorenzino said that "the attacks on risk qualifiers and the vulture funds are not going to stop Argentina from keeping its promises" referring to the payment of large debts the country owes. But "we will not pay one dollar toward the vulture funds."
On Thursday, President Cristina Fernández de Kirchner criticized credit rating agencies and vulture funds as she addressed the impounding of the Libertad frigate in Ghana and the New York court ruling in favour of bondholders that did not take part of the debt swap in 2005.
"It's a court that evidently does not know enough about its own legislation", the Head of State said, who considers that a recent ruling against Argentina by a New York appeals court "puts 93% of creditors at risk because of the holdouts."
A federal appeals court in New York ruled that Argentina violated bond provisions to treat all creditors equally when it made payments to creditors who accepted the swaps while refusing to pay the holdouts. It said Argentina must pay the holdouts every time it services the restructured bonds.
But Cristina Fernandez said that her government "would honour its debts" and blasted the 'vulture funds' saying it would be "a great deal for the 'vulture funds' to see us not meet our payments, since they, who are very few people, have historically made a bucket full of money every time the Argentines went broke. That's why they want to see us broken. But I have bad news for them: We are going to pay and with dollars because we have them to our creditors, but not one dollar to the 'vulture funds'"