Argentines disapprove of Cristina, the opposition and reviewing the constitution
Monday, November 5th 2012 - 12:29 UTC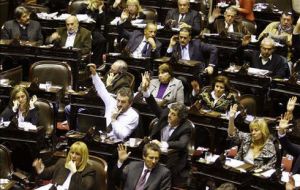 Six out of ten Argentines disapprove the performance of President Cristina Fernandez and an overwhelming 80% is against a possible new re-election if a constitutional review is finally passed by Congress, according to the latest opinion polls released in the Buenos Aires weekend media.
The adverse results were aired a month before Cristina Fernandez completes the first year of her second term (10 December) following the 2011 re-election when she was supported by a record 54% of ballots and forty points ahead of her runner-up. However opposition parties and leaders did not do much better and have not been able to fill the vaccum.
An opinion poll from Management & Fit published by the Clarin group, which is the midst of a major legal conflict with the government, indicates that 43% has a negative image of Cristina Fernandez. Likewise 66% or two out of three Argentines is contrary to the controversial constitutional review, promoted by followers of CFK and which is essential for a possible third consecutive mandate.
Furthermore of the remaining 27.5% who did not object to a constitutional review to allow a new re-election, 61% were opposed point blank to give such an opportunity to Cristina Fernandez.
When asked specifically the question of the Argentine president's re-election for a new mandate in 2015, the reply is a massive 82.6% NO with only 9.9% supporting.
Based on geographic areas the rejection of a constitutional amendment was most pronounced in Buenos Aires City, 73.6%; Cordoba, 63.2%; Santa Fe, 59.5% and the province of Buenos Aires, 58.3%.
Similarly with a possible candidacy of Cristina Fernandez for a third consecutive mandate: in Cordoba the rejection reaches 65%; Santa Fe, 62.1%; Buenos Aires City, 56.8% and Buenos Aires province, 47.2%.
However Argentine public opinion disenchantment with Cristina Fernandez, only a year ago queen of politics, is also extensive to the opposition: seven out of ten interviews showed disapproval of their performance led by the province of Buenos Aires and followed by Cordoba and Santa Fe.
The real significant data for Cristina Fernandez is not the paralytic performance of the opposition but the fall in support in the province of Buenos Aires, Argentina's largest electoral circumscription, where having control (and patronizing) the 130 odd municipalities of the Buenos Aires metropolitan area is half the victory for a presidential election.
The Management & Fitch poll was done between 18/29 October interviewing 2.100 people of voting age, in the main urban areas of the country, and before an official statement from opposition senators pledging to impede any attempt of a constitutional review for a third consecutive re-election.