Uruguay expects 243 cruise calls this season, up 9.3% over 2011/12
Monday, November 5th 2012 - 19:13 UTC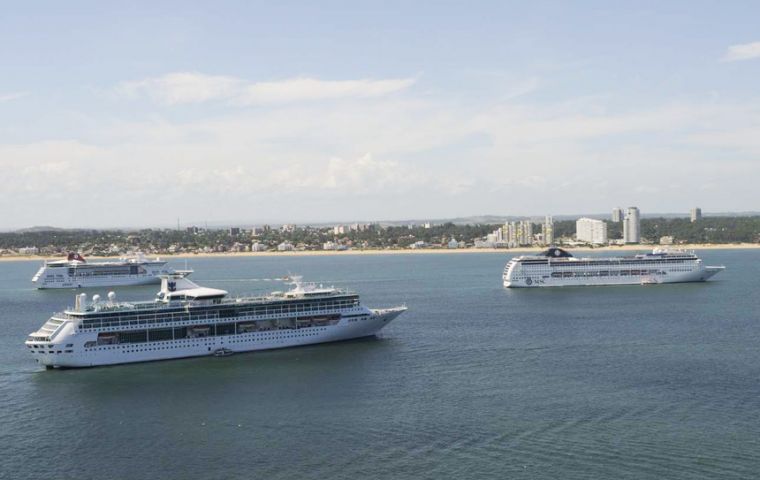 Uruguay expects 243 calls of cruise vessels during this summer 2012/13 season (October/April) which means, if confirmed there will be a 9.3% increase over the same period in the 2011/12 season. The information published in the Uruguayan presidency web says Montevideo expects 131 calls while Punta del Este 112.
However the info is subject to changes, probably upwards, as has happened in the immediate previous season indicates the Ministry of Tourism. The Uruguayan ministry estimates the turnover from the cruise visits in the range of 21 million dollars, of which 47% went to Montevideo and 53% to Punta del Este.
This season which took off in October with two calls will be followed by 9 in November, another 46 calls in December, 77 in January; 61 in February; 44 in March and four in April.
Last season Uruguay received 225 cruise calls of which 119 in Montevideo and 106 in Punta del Este. These numbers represented an increase of 31.6% over the 2010/11 season, according to the official stats published in the Uruguayan government's website.
As to the number of visitors, last season the number reached 354.000 of which 56% arrived to Punta del Este and 44% to Montevideo. Comparing number of visitors last season was 27% up from 2010/11.
The cruise industry has been growing steadily along the Atlantic coast, despite some complaints from the different companies about too high towing, docking and pilot costs, because Brazilians, Argentines, Chileans and Uruguayans have become regular customers.
Tours from Brazil to Valparaiso, Chile across the Magellan strait have become popular among South Americans and Mexicans, and Costa Cruises cater mainly to this public.
A problem with Chile was solved after Congress passed a bill which allows the cruise vessels to operate on board casinos under certain circumstances. Since the privatization of casinos in Chile there was a ban on the activity for vessels sailing along Chilean waters.