MP Mark Lancaster will represent UK government at Falklands' Remembrance ceremonies
Wednesday, November 7th 2012 - 21:38 UTC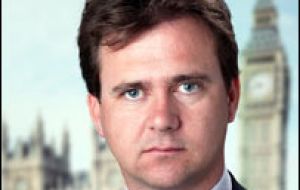 Milton Keynes North MP Mark Lancaster will be in the Falkland Islands for Remembrance Sunday as the British Government's representative. HRH the Duke of Kent will also be attending the ceremonies.
Usually in Newport Pagnell for the Remembrance ceremonies at the town's memorial, the MP for Milton Keynes North, who is a member of the Territorial Army, will this year be laying a wreath at the memorial in Stanley.
Britain traditionally sends a Minister to represent the Government each year to the Falklands and this year Mr Lancaster has been selected because of his junior minister role in the Ministry of Defence and his continuing service as a Lieutenant Colonel in the Reserve Forces.
This year marks the 30th anniversary of the Falklands war which followed the Argentine invasion of the Islands, and it is expected that more than 50 veterans will be flying to the Islands as part of the commemorations.
Mr Lancaster said:" I would normally never miss Remembrance Sunday in Newport Pagnell but I am deeply honoured to be asked to represent the British Government in the Falklands.
"Given the significance of the commemorations this year I think it is absolutely the right thing to do and sends a clear message to the Islanders as to the strength of support the have here in the UK."
Mr Lancaster will be attending ceremonies at Port Stanley, Goose Green, the site of one of the major battles of the war, as well as a service of remembrance at Stanley Cathedral during his five-day trip.
According to the Falklands government program, Remembrance Sunday begins with a Memorial Service at Christ Church Cathedral in Stanley. This will be followed by a parade of Guard Detachments representing the Royal Navy, Army, Royal Air Force and a Detachment from the Falkland Islands Defence Force.
The Band of HM Royal Marines Scotland will lead the parade. They will be joined by Veterans and Associations and begin their march to the Cross of Sacrifice at the local cemetery.
A short service will then be held and the Roll of Honour read out and there will be two minutes silence at 11.00 am marked by the firing of the saluting guns on Victory Green.
The Duke of Kent, MLA Dick Sawle, the Commander British Forces, and FIG official guests will lay wreaths, followed by representatives of the Armed Services, Falkland Islands Defence Force, the Royal Fleet Auxiliary and the Royal British Legion.