Opposition lawmakers pledge to block any re-election bid by Cristina Fernandez
Wednesday, November 7th 2012 - 04:47 UTC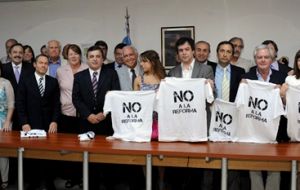 As happened in the Argentine Senate a couple of weeks ago, 107 members (out of 257) from the Lower House, and from all opposition parties, subscribed on Tuesday a manifest pledging non support for any initiative to amend the Constitution with the purpose of opening the way for a second re-election.
The initiative is clearly geared to prevent any attempts from the ruling Victory Front to promote such an initiative given the resurgence of a group called "Cristina for ever", and which strongly promotes the re-election of President Cristina Fernandez for a third mandate, currently banned by the Argentine constitution.
"We subscribe the current instrument pledging to vote against any legislative initiative which attempts to declare of necessity the review of the constitution, and against any attempt of a presidential re-election contrary to the current effective text", said the lawmakers.
The document was signed by 107 lawmakers from all the opposition parties with representation in Congress. Representatives from all the different groupings participated in a press conference to make the announcement.
However lawmaker and former presidential candidate Elisa Carrió and strong critic of President Cristina Fernandez did not join the grouping arguing that "it is not needed for us to say that we support the content of this initiative adopted by different groupings, which is correct, but we also believe that our position contrary to any constitutional reform attempt is well known".
Lawmaker Ricardo Gil Saavedra from the Radical party the main opposition force said that "we are committed to not support any attempt to reform the constitution and we hope the people will support us in the next elections".
President Cristina Fernandez has discarded any re-election attempt with the purpose of running for a third mandate in 2015, but the opposition block insisted in making a strong tangible presentation with a picture of the group generously distributed in the media.
According to the current Argentine constitution any reform or review involving Congress needs two thirds of votes in both houses, a number which the ruling coalition of CFK with all her allies can't manage, even with the working majority it enjoys.
Previous to the Lower House, 28 out of 72 Argentine senators had already assumed a similar commitment contrary to any constitution review. With the 107 in the Lower House plus the 28 Senators there is no way Cristina Fernandez administration can manage the two thirds in each house. Furthermore out of the 28 Senators only seven will have to renew their seats in next year's mid term election.