Chile's ENAP and BG clash over supply of LNG from Egyptian fields
Friday, November 9th 2012 - 06:23 UTC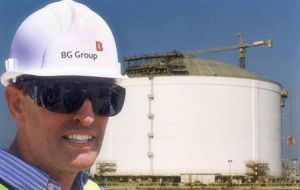 Chilean government owned oil and gas company, ENAP, described as 'unacceptable' British Gas announcement to GNL Chile that its will not comply with provision contracts next year.
BG argued that production troubles in Egypt are affecting supplies of Liquefied Natural Gas to two of its Chilean customers, Endesa Chile and state-owned ENAP' GNL.
ENAP in a statement said that it will demand "the full compliance of the BG contract in defence of its rights of a company that belongs to the Chilean State". The release added that ENAP since 2011 is being counselled by international lawyers, in New York, specialists in these issues.
Last week BG Chief Executive Frank Chapman said the failure of efforts to re-invigorate a field in Egypt would cost the company 30.000 barrels of oil equivalent per day of lost gas output.
"Regrettably, this has had an impact on the number of cargoes now expected to be delivered to Chile in the 2013 contract year," said a BG spokesman. A shortfall would trigger so-called "Supply Shortfall Quantity Payments" under the contract to compensate the two customers, he added.
ENAP since 2007 has a natural gas supply contract with GNL Chile, of which it owns 33.3% and receives LNG based on long term contracts extending until 2030, subscribed with BG.
The contract establishes that beginning 2013 ENAP has access to lower prices when certain volumes are committed on long term, such is the case, and ENAP has implemented the option and thus has the right to lower prices as of January 2013.
A statement from Endesa Chile's website indicated a willingness to negotiate further to secure the supplies it needs: "Endesa Chile clarifies that the negotiations it is holding with BG are linked to the issue of the price of the subscribed contracts and not to the alleged failure of supply from BG".
A third Chilean customer, Metrogas, is unaffected because its contract for BG gas is not directly tied to the Egyptian output.
News of the Egyptian problems and other output issues hit BG's share price hard last week.