BRIC miracle largely over; mature economies take the lead, says US Conference Board
Thursday, November 15th 2012 - 18:44 UTC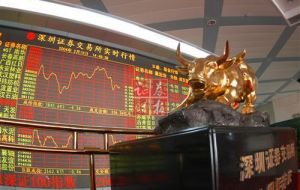 The catch-up boom in China, India and Brazil is largely over and will be followed by a drastic slowdown over the next decade, according to a report by America's top forecasting body.
The US Conference Board's global economic outlook has called into question the 'BRIC' miracle (Brazil, Russia, India, China), arguing that the 'low-hanging fruit' from cheap labour and imported technology has already been picked.
The report said that China's double-digit expansion rates will soon be a 'romantic memory'. It said that growth will fall to 6.9% next year, then to 5.5% from 2014 to 2018, and 3.7% from 2019 to 2025 as the aging crisis hits and investment returns go into 'rapid decline'.
Growth in India, where the reform agenda has been 'largely derailed', will fall to 4.7% by 2018, and then to 3.9%, the report said.
"As China, India, Brazil, and others mature from rapid, investment-intensive 'catch-up' growth, the structural 'speed limits' of their economies are likely to decline," the Board said.
"Mature economies are still healing the scars of the 2008-2009 crisis. But unlike in 2010 and 2011, emerging markets did not pick up the slack in 2012, and won't do so in 2013," it said.
It said that Germany will outperform Italy and France massively over the next five years, implying a bitter conflict within EMU over control of the policy levers.
The report says that global growth dropped to almost 3% in 2012, which indicates that about a half a percentage point has been shaved off the long-term trend since the crisis emerged. Uncertainty across the regions: from the post-election 'fiscal cliff' question in the US to the Chinese leadership transition and reforms in the Euro Area, will continue to have global impacts in sluggish trade and tepid foreign direct investment.
Across the advanced economies, the Outlook predicts 1.3% growth in 2013, compared to 1.2% in 2012. The slight up-tick is largely due to the Euro Area, which is expected to return to very slow growth of 0.2% after the 0.6% contraction in 2012. US growth is expected to fall from 2.1% in 2012 to 1.8% in 2013.
In the medium-term, the Conference outlook expects the US and other advanced economies to go some ways toward closing large output gaps – that is, the difference between current output and the level of output an economy can produce in a non-inflationary way, given the size of its labour force and its potential to invest in and create technological progress.
The current output gap is a result of weak demand due to the 2008-2009 crisis. This development should allow the US to average 2.3% annual growth during 2013-2018 before falling to 2.0% in 2019-2025. In the same two periods, Japan is expected to grow at 1.1% and 0.9%, respectively.