Taste of Falklands' squid at the largest seafood event in the event in China
Friday, November 16th 2012 - 04:00 UTC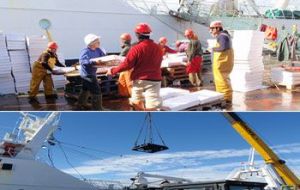 Falkland Islands fishing company Georgia Seafoods joined Scottish and English seafood producers to exhibit as part of the UK pavilion at the China Fisheries & Seafood Exposition held in Dalian, China last week.
A representative of the company assisted by a translator promoted the company's products Patagonian and Antarctic Toothfish to importers and distributors from all over Asia.
The show has become the largest seafood event in the world and over 18,000 visitors from 80 different countries attended this year.
There were 2300 exhibitor booths, an increase of 30% since the last time the show was held in Dalian in 2010.
Chinese seafood production and exports are growing but the domestic demand for premium seafood such as lobster, crab and high quality wild-caught whitefish that cannot be farm-raised continues to rise dramatically.
Chefs on the UK pavilion prepared samples of Georgia Seafood fish and visitors were invited to compare the two species of Toothfish, Patagonian Toothfish and Antarctic Toothfish.
The company sponsored a Taste of Britain reception evening. Falklands Patagonian squid and Toothfish were served to invited guests.
Georgia Seafood is the operator of the Falklands long-liner TRONIO which fishes in the MSC South Georgia Patagonian Toothfish fishery and the MSC Ross Sea Antarctic Toothfish fishery. (FIRS)