No dispute over Falklands issues
Sunday, November 18th 2012 - 23:54 UTC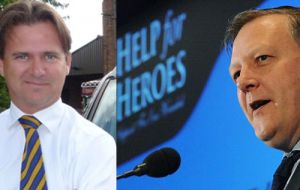 Two Members of Westminster Parliament have been visiting the Islands during this period of remembrance as guests of the Falkland Islands Government.
Mr Mark Lancaster MP, who is a Government Whip and Mr Kevan Jones MP, Shadow Minister for Defence, left the Islands on Tuesday on the same flight as HRH the Duke of Kent, after a similarly full programme of visits and official engagements.
Speaking to Penguin News during the week both visitors wished to thank their hosts and the people of the Islands for the warmth of their reception - according to Mr Lancaster something not always given to politicians in Britain.
They were adamant that there was absolute cross-party agreement in the British Parliament over the right of Falkland Islanders to self-determination and the need to maintain the current level of military deterrent against any possible aggression.
Being himself a serving officer in the Territorial Army, who has served in Kosovo and Bosnia as part of the UN peace-keeping force and more recently in Afghanistan, Mr Lancaster was keen to reassure Islanders that recent announcements from the British Government that reservists would be part of the Falklands garrison did not imply any reduction in military capability. Not only was the Territorial Army now a highly
professional and well-trained force, but also its members had already been routinely serving in the Falkland Islands for some years.
Mr Kevan Jones, who first visited the Falklands in 2002, said that he was impressed by the progress that had been made in the Islands since then and delighted to find the same spirit of purpose and optimism evident.
For the MP for North Durham the opportunity to meet with veterans had been one of the highlights of the visit. In his former capacity as Minister for Veterans, Mr Jones had signed what he believed was the first cheque which went towards the founding of Liberty Lodge in Stanley. (PN)