Uruguay admits inflation is "decisively much higher" than expected
Tuesday, November 20th 2012 - 01:40 UTC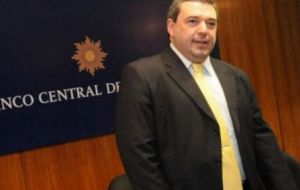 Inflation is a priority and is "decisively much higher than what authorities and public opinion would like" admitted Mario Bergara, Uruguay's Central bank president during the opening on Monday of a two-day annual economic conference.
"At the moment we are deploying all our Central bank batteries together with other economic policy resources", said Bergara. Inflation in October reached a twelve months' 9.11% very close to the two digits that could trigger a round of tougher salary negotiations and causing even more disarray in an already tight labour market.
At the moment the agreement with the unions is that there is an only annual round of salary negotiations as long as inflation in the twelve months remains at 10% or below.
"We have applied monetary measures; we have systematically increased the reference interest rate for over a year and a half and we have implemented other orthodox tools from a macroeconomic perspective, plus non conventional measures such as direct negotiations with those economic agents that contribute to the formation of prices (i.e., supermarkets)" insisted Bergara.
The central bank president said is was necessary to ensure the fundamentals which help make the prices system; inflation is a complex issue because it is made up of thousands and thousands of decisions. We must avoid bad news so that inflation is not taken into an escalation without any logic. Our duty is to act on those expectations that influence prices and act with caution".
The latest data from Uruguay's stats office, INE, anticipate that prices during October climbed 1.15%, which adds up to 7.95% in the last ten months and 9.11% in the last twelve months. The government's target for this year is 6% to 8%.
Bergara also pointed out growing concern about the volatility of capital influx to the region. "These influxes have an impact on relevant variables, such as the foreign exchange rate which is very important for costs, production and exports".
According to INE, the cost of a basic basket of food and beverage goods based on Market Average Prices reached in October, was 3.064 Pesos (approx 158 dollars) equivalent to an increase of 1.47% over September, 3.002 Pesos (approx 155 dollars).
Besides monetary tools, the Uruguayan government reached an agreement with the leading chain of supermarkets to have 200 items from the basic food basket (and included in the calculation of the Consumer Price Index) frozen until January first and similarly with public utility rates and public transport.
With these instruments Uruguay's economic authorities believe they can keep official inflation below the two digit mark, which is essential for labour peace.