Ghana rejects Argentine plea to drop case of impounded frigate ARA Libertad
Wednesday, November 21st 2012 - 20:01 UTC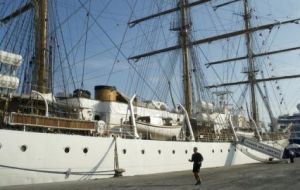 Ghana rejected on Wednesday Argentina's plea for Accra City's Commercial Tribunal to drop the case that kept the ARA Libertad navy training frigate impounded at Tema port since October 2nd.
ARA Libertad, a naval training vessel, was detained in Ghana's eastern port of Tema on October 2 at the request of hedge fund NML Capital Ltd, which claims Argentina owes it over 300 million dollars on bonds in default since 2002.
On Wednesday Ghana Judge Richard Adjei Frimpong, of the Commercial Tribunal in Accra City rejected the proposal put forward by the Argentine government's legal representatives.
"It would be bad fate for this tribunal to put this through," Frimpsong said, who explained that the initial part as an "unconditional" defendant was not able to be reversed.
Shortly after the decision was made known, President Cristina Fernández was reported to have held an urgent meeting at the Olivos presidential residence with Foreign Minister Héctor Timerman, in order to discuss the issue.
The Argentine Foreign Ministry on Thursday last week informed the International Tribunal for the Law of the Sea at Hamburg, which then proposed November 29 and 30 as the days to hold the hearings between Argentina and Ghana over the seizure of the ARA Libertad Frigate at Ghana's Tema Port.
The solicitors defending Argentina wanted the Ghana court to declare it was not competent to judge a dispute between the NML Capital investment fund and a foreign sovereign country.