Bolivia accepts invitation to become a full member of Mercosur
Friday, November 23rd 2012 - 13:06 UTC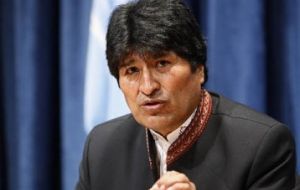 Bolivia accepted the official invitation to become full member of Mercosur and hopes to sign the first accords during the coming summit of the block in early December in Brasilia, said President Evo Morales.
Bolivia thus will follow on the steps of Venezuela which this year became the fifth full member of Mercosur (originally Argentina, Brazil, Uruguay and Paraguay). However Paraguay is currently suspended following the controversial removal of the president last June.
"This proposal to become full member of Mercosur, we are in agreement", said President Morales during a speech at a military ceremony aired live on government television.
Morales revealed that the invitation was simultaneous with that to Ecuador, which as Bolivia is currently member of another subregional integration group, the Andean Community of Nations, from which Venezuela walked out.
Bolivia and Chile are currently associate members of Mercosur.
Venezuela was incorporated as full member last July following the suspension of Paraguay, the only country that until then refused to vote on the fifth member because of differences with Venezuelan president Hugo Chavez.
The same Senate that impeached Fernando Lugo and had him replaced by current president Federico Franco in June had refused on several occasions to even take a vote on Venezuela's incorporation arguing that President Chavez did not comply with 'democratic procedures'.
At the next summit in Brasilia on December 6/7, Uruguay will be receiving the Mercosur chair for the first half of next year from Brazil.
It should have been Paraguay's turn, but since the country has been suspended until April 2013 presidential election, it was skipped for Uruguay.