Brazil contrary to lifting suspension of Paraguay from Unasur until April
Wednesday, November 28th 2012 - 16:03 UTC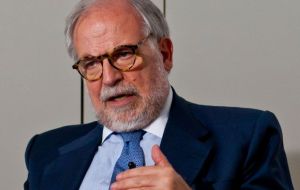 Brazilian Executive special advisor on International Affairs, Marco Aurelio Garcia anticipated that at the coming summit in Lima, the Union of South American Nations, Unasur, would not lift the suspension on Paraguay which will hold until April's election.
Garcia made the comment on the sides of the annual conference of the Argentine Industrial Union, UIA, currently taking place in Argentina with the participation of presidents Cristina Fernandez and Dilma Rousseff.
On Friday Unasur presidents are scheduled to meet in Lima where among other issues the leaders will consider a report on the Paraguayan political and electoral situation compiled by a special mission sent to the country to assess human and civil rights and the process leading to the April 2013 presidential election.
"Things are moving ahead. Unasur is not going to back step with the suspension. A timetable was established and the timetable ends with the elections. We want clean, transparent elections", said García.
"Of course we want Paraguay back and for that there is a timetable established which is the normalization of the democratic process and this means elections", underlined the Brazilian diplomat.
Last June Paraguay was suspended from Mercosur and Unasur, but not from OAS (Organization of American States) following a political impeachment by the Paraguayan senate that removed Fernando Lugo and replaced him with Federico Franco. However the legitimacy of the controversial event was questioned by Unasur and Mercosur.

In related news Paraguay's Deputy Foreign Affairs minister Antonio Rivas confirmed that Madrid considers the government of President Federico Franco as legal and legitimate. The announcement was made in an official release from the Spanish Foreign Ministry.
"Spanish authorities have said that the process leading to Federico Franco becoming president was in compliance with the Paraguayan Constitution", said Rivas.
He added that the announcement's purpose is to finish with the 'hounding' of Paraguay in all aspects, although this comes after the recent the Ibero-American summit in Cadiz to which Paraguay was un-invited, following pressures from several Unasur members.
"Let's hope they stop excluding us from the meetings and we are treated as full participants as the rest of the countries", added Rivas.