Falklands debates full time lawmakers and how to attract younger generations to elected posts
Friday, November 30th 2012 - 18:50 UTC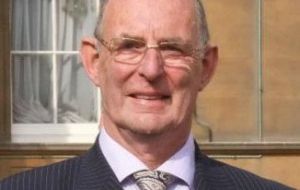 With the next general election for Legislative Assembly Members for the Falkland Islands Government less than a year away, public consultation has begun on whether the posts should become full time with an appropriate salary paid.
Several of the current Assembly Members have expressed concern at the lack of young candidates putting themselves forward for election and separate discussions and meetings have been held to explore ways of encouraging the younger generation to take an active role in the running of the country.
Former Assembly Member for both the Camp and Stanley constituencies and currently working for the Members Remuneration Review Panel, Richard Cockwell, chaired a public meeting on Monday where many members of the public voiced their opinion that the time had come for Members to be suitably rewarded for the steadily increasing work load they have.
Some members of the public said that £40,000 per annum was suitable remuneration for a full time Assembly Member, while a lesser number thought it unnecessary to pay more for the services provided.
Further meetings are to be held including one with the younger members of the community next month.
Given that the youngest current Assembly Member is 50 years old, and the last injection of the under 50s in the form of Janet Robertson and Andrea Clausen elected in 2005, failed to inspire the electorate to reinstate them in 2009, MercoPress went out and about this week to find out in advance how favourably the younger generation would view a full time paid position.
Roddy Cordeiro (32) who works for Mineral Resources said he was convinced there was a need for full-time, salaried MLAs and that people from a wider demographic background would be encouraged to stand for election if they didn't have to sacrifice their existing time and/or income.
"At the moment we have a system whereby only those who can afford the time and money to do so (or those with, very understanding employers) can effectively stand. This reduces the candidate pool considerably and I believe stops fresh thinking and ideas from entering the political system. Furthermore, and particularly as we look to increasingly reach out internationally, we need professional MLAs who can fully devote their time to the task at home and abroad. We are a self-governing country and we should have a system that recognises the work load and responsibility that entails," said Mr Cordeiro
The choice to stand should be one borne out of civic duty, but the reality is that serving office would be an invaluable career opportunity, he said adding, "I do not believe therefore that there should be specific MLA pensions, sabbaticals or post-saving for those taking office; I think a four year contract is a perfectly safe career choice and we should not be looking to provide a safety net."
Environmental Officer Nick Rendell (30) has witnessed the heavy work load and associated issues that are a less savoury part of being an MLA when his father Mike Rendell served and does not feel it is a career move he would choose at the moment.
"A decent wage would definitely make it a possibility and would likely make it a more attractive option for under 30s," he said, but added that he was still not sure the average younger person would like the risk of leaving a career for a four year contract. "I still think altruism comes heavily into the equation," he said, adding: "If the Falklands Government could encourage employers to offer leave of duty while contracted as MLA, this would help younger people take a 'career break' while serving as an MLA."
One 35 year old Islander said he was definitely interested in politics. "Whilst money isn't everything, there is a need to cover costs. With the present structure I wouldn't be able to afford to stand as I have no savings. Being paid a salary around £40k per year removes that obstacle. I think we are entering very interesting times and it would be great to be part of that. I think full time should be an option, although I am sure there could also be some very good candidates in the private sector that may need to remain part time," he told MercoPress.
Another Islander in his late twenties said although he was fully supportive of the option of full time MLAs, he was slightly surprised to hear that a figure of £40,000 was the consensus view at the public meeting and was worried that such a high figure would attract interest for the wrong reasons.
This view was shared by Sulivan Shipping's Tourism Coordinator Samantha Marsh (29) who said although she appreciated the ever increasing workload and the need for fulltime MLAs she had concerns that such a salary would be the sole motivation for some rather than, "a passion for the Islands and its future."
"Personally I feel the job of MLA is something best suited to those who have experience and knowledge, and this is something that comes with age. If I ever considered standing for election I would not do so until my late 30s as I do not feel I have enough 'life experience' if you will.
"Younger people such as Krysteen Ormond have proved they have the mettle to represent the Islands well overseas, but our youngsters may be reluctant to put a potential career on hold whilst being a full time MLA, which is understandable. I am not sure if even such an attractive wage would change this," Miss Marsh told MercoPress.
Krysteen Ormond (23) who is studying overseas and recently took part in a Falklands delegation at the C24 in New York last June said she had indeed pondered the idea of standing for election and, due to the current restrictions and low pay, had assumed it would have to wait until she had retired and had the time and money. "If it were decided that MLA roles were to be salaried, I would definitely give the idea a bit more consideration," she said.
Miss Ormond said she could see the real benefit of full time salaried MLAs even at £20,000 per annum.
"It would make it more accessible to a wider group of people. There have been problems in the past with work commitments conflicting with political commitments, as obviously, most people need to work to survive as well as being an MLA or they need the flexibility of self- or semi-employment to free up the time to pursue a political career. If it were a salaried role, I feel that more people would be able to really consider the role, as the financial fear would no longer be there."
Penguin News journalist Teslyn Barkman had some reservations about such a high wage as £40,000. "It's very hard to say no to the prospect of any job that offers £40,000 with the only requirement being elected into it," she said. Increase payments to a living wage of £20,000 not £40,000, or elections could be turned compared to a lottery event every four years, warned Miss Barkman. "We need honest working, rational people willing to work for a decent wage, not an influx of gold digging applicants looking for a pay packet with little job requirements beyond public opinion," she said.
By Sharon Jaffray – MercoPress – Stanley