Unasur summit will address Paraguay situation; Brazil and Argentina absent
Friday, November 30th 2012 - 06:39 UTC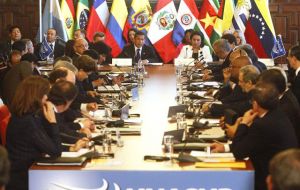 The Union of South American Nations, Unasur leaders meet on Friday in Peru to consider advances to the integration process and a report on the political and electoral situation in Paraguay, which remains suspended from the group since last June.
The VI ordinary meeting of the Heads of State and Government council will be chaired by President Ollanta Humala and will include Bolivian president Evo Morales, Chile's Sebastian Piñera, Colombia's Juan Manuel Santos, Ecuador's Rafael Correa, Guyana Donald Ramotar, Surinam Desiré Delano and Uruguay's Jose Mujica.
Hugo Chavez from Venezuela will be absent since he is in Cuba for continued cancer treatment; Brazil's Dilma Rousseff has a full agenda of domestic affairs and Cristina Fernandez at last moment reported she is not travelling on medical reasons, apparently suffering from low back pain, a variant of sciatica. Paraguay is suspended and will not be represented.
During the one day meeting the leaders will debate the Regional Peace, Security and Cooperation Protocol which pretends to strengthen mutual confidence in bilateral and multilateral relations, plus the report from the High Level Group on the Paraguayan situation.
Unasur and Mercosur last June suspended Paraguay from the group following what was described as a "democratic rupture", when Fernando Lugo was impeached by the Senate and replaced by Federico Franco.
The head of the High Level Group Salomón Lerner visited Paraguay last week and although he was not received by officials from the Executive he did meet with lawmakers, political parties, the Electoral Tribunal of Justice and other organizations. The former Peruvian Prime minister said he expected Paraguay to invite Unasur observers to the April 2013 elections. However the Electoral tribunal did extend a personal invitation to Lerner.
The administration of President Franco believes Unasur has gone too far with the political exclusion of Paraguay which has been extended to economic, social and technical forums including the Mercosur Parliament. Franco described the attitude as a "persecution crusade" which pretends to coerce Paraguay' sovereignty and restrict the country's full sovereign rights.
The Lerner report was anticipated to Unasur Foreign ministers who also met to iron out details of the summit in Lima, and apparently includes recommendations to the leaders on what steps to follow. On leaving Asunción Lerner said he was returning to Peru with a 'positive impression' of Paraguay and that things were 'on the right track' leading to April's elections.
Paraguay is hoping for at least a partial lifting of the suspension, but although Colombia, Chile and Peru have normal full relations with the President Franco administration, Brazil's top advisor on foreign policy Marco Aurelio García said that "sanctions are sanctions" and must be fully complied.