Falklands' mission to learn from the oil experiences of Norway and Shetlands
Monday, December 3rd 2012 - 05:02 UTC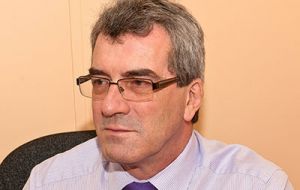 Senior members from the Falkland Islands government have left for Norway and the Shetland Islands on an experiences-fact-finding mission as the Islands prepare for oil production in the near future.
The delegation is made up of Chief Executive Keith Padgett, Financial Secretary Nicola Granger, Director of Central Services Simon Fletcher, Director of Minerals Stephen Luxton and Head of Policy Jamie Fotheringham plus lawmakers Dick Sawle and Barry Elsby.
The report from the latest Executive Council said that a strategy was agreed which would place oil related income into a separately identified fund within the Falklands' consolidated fund.
It was felt important to treat these revenues in this way in order to preserve the integrity of the Medium Term Financial Plan "which does not take into account these one-off revenues as they are not recurring revenue items".
MLA Dr. Barry Elsby, with portfolio responsibility for the oil sector has said that "it is expected that the first oil from the Falklands will be in a super tanker by 2017" and that the government is well aware of both the dangers and advantages which come with the discovery of oil.
Norway and its Petroleum fund where the oil surplus from its huge hydrocarbons resources in the North Sea are deposited is seen world-side as an example of efficient management of reserves for the future as production of the non renewable resource peaks and phases out in coming decades.
During the absence of Mr Padgett, the Director of Natural Resources John Barton will be Acting Chief Executive. Mr Padgett says that he does not foresee any particular problems with several senior FIG officials being absent from the Islands at the same time.
The Chief Executive says that they will be contactable by phone and email and he is confident that John Barton and the rest of the Corporate Management Team will be able to handle any issues that arise.