Punished by inflation a third of Argentines with difficulties to face monthly payments
Tuesday, December 4th 2012 - 16:24 UTC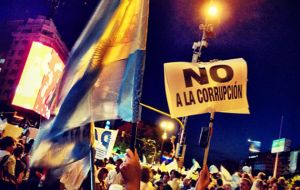 A third of Argentines have difficulties to face monthly costs because of inflation and lagging salaries, and 11% admit to "many difficulties" according to the latest Poliarquía public opinion poll released this week.
The overwhelming majority of interviews blame inflation and the loss of purchasing power to their current difficulties. The official inflation according to the much discredited stats office Indec stands at 10.2% in the last twelve months but private consultants, banned from releasing their findings, agree that consumer prices have been rising at 24.6% annually.
"Clearly the inflationary process is an index that helps explain why real salaries have not increased as indicated by the official stats office" said Alejandro Catterberg head of Poliarquía considered one of the most trusted pollsters in Argentina.
The results of the opinion poll were published by the Cronista Comercial, a financial daily from Buenos Aires and also show that 52% of Argentines considers that their income helps "tightly to just make ends meet", while 14% declared they meet their expenses 'comfortably'.
However only 14% of interviews declare their personal economic situation as "negative", while a majority rates it as 'average and liveable' compared to 38% that describe it as 'positive'.
For Catterberg the poll results obeys to 'different indicators' and points out that in some interviews, those who consider the situation average, at the same time admit they have difficulties reaching monthly payments.
"They are mostly people who live on credit or family loans or that have to make extraordinary efforts or simply have had to reduce their level of consumption because income is insufficient consumed by inflation", said pollster Catterberg.
According to a recent report from the Bank of the City of Buenos Aires, Argentina is one of four countries in the world with the highest inflation, behind the two Sudan and Byelorussia based on private consultants' estimates.
Inflation and the money exchange restrictions also known as the 'dollar clamp' are two of the reasons most blamed by the protestors that took to the streets on 8 November in Buenos Aires and other leading Argentine cities, the largest street demonstration since the 2001/02 crisis.
The Poliarquía public opinion poll involved interviews with 1.000 people during the first fortnight of November and with an error margin of plus/minus 3.2%.