Chavez back in Venezuela after ten days in Cuba: "where's the party"
Friday, December 7th 2012 - 17:04 UTC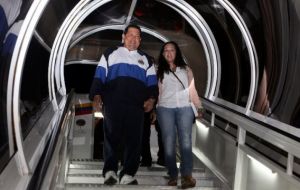 Venezuelan President Hugo Chavez returned from Cuba on Friday following cancer-related medical treatment, walking and joking at the airport in a first public appearance in three weeks that quashed rumours he might have been at death's door.
"I'm happy and enthused to be back again," Chavez said after a typically theatrical surprise return before dawn.
"So, where's the party?" Chavez asked, in festive mood as he chatted with Cabinet ministers after walking unaided down the steps from his plane at the international airport outside Caracas.
Chavez said that Friday was two months since his re-re-election victory and "yesterday the 14th anniversary of the first time we won the presidency, and now we are preparing for next week's victory in the provincial elections".
The 58-year-old leader went to Havana ten days ago to receive "hyperbaric oxygenation" - a treatment normally used to alleviate bone decay from radiation therapy.
Earlier this year, Chavez declared himself "completely cured." Officials had maintained his latest trip to Cuba was just a scheduled follow-up to the radiation therapy he underwent in the first half of 2012
Supporters celebrated the return of a man who has dominated the Venezuelan politics since he first won election in 1998. He wore a blue and white tracksuit and flew with relatives and aides including Vice President Nicolas Maduro.
Opponents criticize Chavez for secrecy over his health and preferring Cuban doctors to Venezuelans.
He has chosen to be treated in Havana due to his friendship with Cuba's past and present leaders Fidel and Raul Castro, plus the discretion he is guaranteed thanks to the Communist government's strict controls on information.
Cuba's Communist Party newspaper published photos showing Raul Castro bidding farewell to Chavez at Havana airport. Chavez said he had met Fidel Castro during his stay.
Meanwhile from Brasilia it was reported that Venezuelan oil minister is sitting in for President Hugo Chavez at the Mercosur summit.
Brazil's foreign ministry said that Rafael Ramirez will represent Venezuela at the meeting of leaders of the Mercosur trade bloc. The presidents of Brazil, Argentina and Uruguay are also attending.