St Helena insists with close business links with the Falkland Islands
Tuesday, December 11th 2012 - 13:15 UTC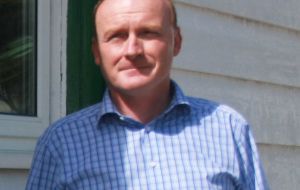 Former Managing Director of the Falkland Island Development Corporation, Julian Morris, now Executive Officer of Economic Development on St Helena, has been caught up in a tight schedule of meetings during his visit over the past week, to encourage Falklands' business investment in St Helena.
Speaking to Penguin News, he explained that with the exciting advent of air access to St Helena in 2016, there were now fast growing opportunities for business development as the island moves towards, not only being, "ready enough" for the anticipated increase in tourists, (currently 2.177 per annum with the aim of 30,000 by 2020) but the likely positive impact on other business sectors.
Laying out the aims of his visit to the Falklands he said from a general point of view it was, "important that people down here know what is happening up there because there is a lot of interaction between the two communities."
More vitally perhaps, Mr Morris has been setting out to Falklands' businesses the coming opportunities on St Helena. A number of Falklands businesses have already invested in St Helena, "so now with the airport we want to see what other areas can be targeted."
He said in sectors such as: fishing, aviation services, shipping and retail, typically Falklands businesses, "have more cash and capacity than Saint businesses and in terms of investment I and the island would rather have more of that coming from the Falklands, where there is a connection than from elsewhere."
Mr Morris is also looking at the Falkland Islands Government (FIG) and the St Helena Government working more closely together: "I've already experienced that since I've been there, and because I know people in FIG I can pick up the phone to them and that's been extremely useful for both sides."
He also believes with regard to strategic issues such as politics, there might be ways the Falklands and St Helena can benefit from, "more joined up thinking."
Mr Morris and the population of St Helena are working within a very tight time-frame. When the British Government made the decision to fund an airport it was unexpected, as the issue had been raised and then dropped by HMG for many years.
"People were unprepared for it happening so fast," said Mr Morris. The four year build contract is one year in already and so far is, "on target and on budget."
Mr Morris is, "optimistic that the island will be ready enough. In the first year we put together a plan of how we are going to address this issue."
The next step was to put in place the components to deliver that plan, "as well as doing some proper work. Now we are pretty much engaged on the proper work."
Those components include: inward investment (getting hotel businesses to come and build on island, where currently there are only 18 rooms available); increasing the capability and capacity of Saint businesses on the island, "in order to take advantage of this situation," and, "linked to that, but also separate, is the 'up-skilling' of Saints."
Next week a hospitality training school will be launched in St Helena so that Saints, "will not just be employed in businesses, but running things themselves."
Providing finance for businesses and international promotion are two further components, however, Mr Morris is also responsible for shipping, the airport project and fisheries development.
Changes are already happening he explained. As a result of the airport project he has agreed a new ten year deal with Cable & Wireless which has meant cheaper rates and significant improvements.
The island has also gone from three TV channels to 15 and mobile phones will 'happen' next year.
Mr Morris made it clear that he was not in the Falklands in order to target Saints to return home to work, although part of the organisation he is running is, "definitely targeting that with some success, but when wages in Stanley are four to five times higher than they are in St Helena, people will only move to be in a better situation."
He added: "So we have no expectation of Saints from Stanley moving back to the island, but from the UK and South Africa definitely; that's where we are having quite a bit of success."
Over recent years, with wages low and few opportunities for the younger generation, the population of St Helena has reduced from around 6,000 to approximately 4,000.
Mr Morris said, "I'm there to help the island change and it needs that change in my view as wages are too low. Half the people of working age are off-island as there aren't the jobs on the island and 20 per cent of kids at school don't have at least one parent on the island."
Summing up, Mr Morris commented that although the Falklands and St Helena were very different in many ways, there was also a parallel: "The airport is going to be St Helena's 1982 and it will change the economy and be a catalyst."
He said the parallel had given him a lot of encouragement: "Rapid change in a small community is a lot easier to do than rapid change in a bigger place," and the Falklands, he said, provided a perfect example of this. (PN)