Young Falkland Islanders take part at the 5th Commonwealth Youth Parliament in London
Wednesday, December 12th 2012 - 07:47 UTC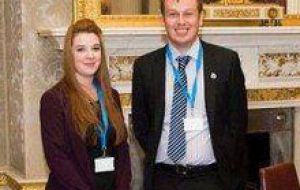 Falkland Islander Krysteen Ormond (23) has completed the Commonwealth Youth Parliament 2012 with her interest in politics augmented and urges other young people to take advantage of the experience if the chance arises.
Fellow Islander Stacy Bragger also made the journey to London for the CYP which took place from December 5 to 7 and is jointly hosted by CPA UK and the CPA, as part of both organisations' commitment to engaging young people in politics, parliament and the Commonwealth.
It was considered fitting that the fifth CYP should take place in the UK again as a fitting way of marking the Diamond Jubilee of her Majesty the Queen.
Krysteen said she was quite overwhelmed when she first received the briefing materials for the event which focused on the theme of governance, as there was a lot of very detailed political convention that had to be conformed to.
"I was a little scared that I might inadvertently offend someone, but actually as soon as we met the team from the Commonwealth Parliamentary Association UK (CPA UK) and they settled us in it was fine," she said.
Attending the CYP had definitely deepened her interest in taking part in politics in the Falklands in the future, and was another step on what has been a "whirlwind political journey this year."
Krysteen took part in a delegation of young people who joined Falklands Assembly Members at the C24 in New York earlier this year.
"What I found most exciting was speaking to representatives from countries that have their own Youth Parliaments or Youth Assemblies that actually take an active role in legislation and lobbying. They are not 'model UN' style bodies, they are quite literally assemblies made up of young people, representing constituencies and once they have agreed on bills and legislature, it's passed to the official parliaments and/or assemblies and heard again. The idea that young people could be basically writing bills about issues that affect us and our future is just amazing," she said.
She urged other young people to get more involved in politics in the Falklands: "To anyone who is thinking about getting more involved in politics at home, in terms of CYP, overseas trips or just raising your hand in a meeting, I would say do it!
HE Gordon Campbell, Canadian High Commissioner told the CYP2012: 'You are not too young to get involved in public life,' and he's right. Lisa Nandy is the MP for Children & Young People and she was elected aged 31."
Krysteen said one of the best things about the whole experience was getting to meet other young people, and whilst it was a very serious programme, at the end of the day, they were all under-30s building friendships and strengthening relationships.
She thanked the CPA UK, the CPA Secretariat, all the speakers and behind the scenes angels of CYP2012, and the Falkland Islands Government for giving her the opportunity to participate in such a great programme, "at the end of such a bumper year in British life."
Sharon Jaffray – MercoPress – Stanley