"Tackling inflation", Uruguay's top priority says IMF and suggests government cuts spending
Friday, December 14th 2012 - 20:35 UTC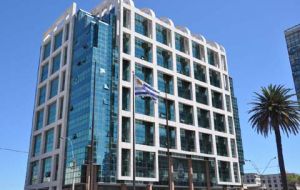 "Tackling inflation is Uruguay's priority" said the International Monetary Fund board on Friday after inflation in October climbed to 9.1%. Monetary policy is not enough: the government must make efforts to cut back government spending and moderating wage growth insisted the IMF.
"Having inflation and inflation expectations stable at the mid-point of the target range (4% to 6%) would create room for monetary policy to respond to downturns and capital inflows, and help reduce dollarization and indexation" added the IMF.
The IMF executive directors endorsed the views of Fund staff, who insisted inflation must be the government's top economic priority.
Uruguay's central bank last raised rates in September to 9%, the highest level in at least two years, but inflation remains above the government's 4 to 6% target range.
The IMF said Uruguay's central bank should better communicate where its policies are headed, and how it would respond to shocks. "More frequent policy meetings would also be useful," the Fund said.
The directors also called on the government to tools other than interest rates to fight inflation, including cutting back on government spending and moderating wage growth.
"Monetary policy cannot fight inflation alone, given capital inflow concerns; concerted efforts on other fronts are also necessary. In particular, fiscal policy could better support monetary policy".
IMF also pointed out that "recent initiatives to cut/freeze some consumer prices create distortions without addressing the root causes of inflation. In the view of the mission, extensive wage indexation is a key reason why price shocks feed into wages and core inflation".
Slower spending would help moderate domestic demand, alleviate real appreciation pressures, and support disinflation. It would also help secure the authorities' target of reducing public debt to 45% of GDP by 2015.
Prudent wage growth is also essential. The upcoming wage negotiation round is key given its wide coverage and its multi-year focus. The attempts to link real wage growth with sector productivity growth are welcome, even though it will be challenging in practice. Flexibility to reconsider wage agreements in case of an economic downturn will be important.
Uruguay has been caught between competing policy priorities: inflation continues to creep up, but hiking rates higher might increase already strong capital flows into the country, which risks pushing up Uruguay's currency.
"Short-term capital inflows are presenting monetary policy with difficult choices between lowering inflation and avoiding a sharp (currency) appreciation," the IMF said.
But the peso remains in line with its fundamental rate for now, meaning inflation is the key risk, the Fund said.
The Fund also said Uruguay's growth has been slowing toward its long-run potential, and faced risks from slower economic growth in neighbouring countries.
Uruguay's economy is expected to grow 4% this year and next according to official forecasts. But some analysts think sluggish growth in larger neighbours Brazil and Argentina could take a bigger toll than the government is predicting.